Convincing Tagline
Best White and Gray RTA Cabinets in the Business
If you want designers to design your kitchen for you or to save money on your purchase, click here
Light Rail Molding: The Ultimate Guide
By:
|
Last updated: November 7, 2022
Looking to add a touch of elegance to your home? Light rail molding may be the perfect solution! This type of molding is becoming increasingly popular due to its versatility and beauty. In this guide, we will discuss what light rail molding is and how to install under cabinet light rail molding. So if you're ready to add some glamor to your décor, keep reading!
What is Light Rail Molding?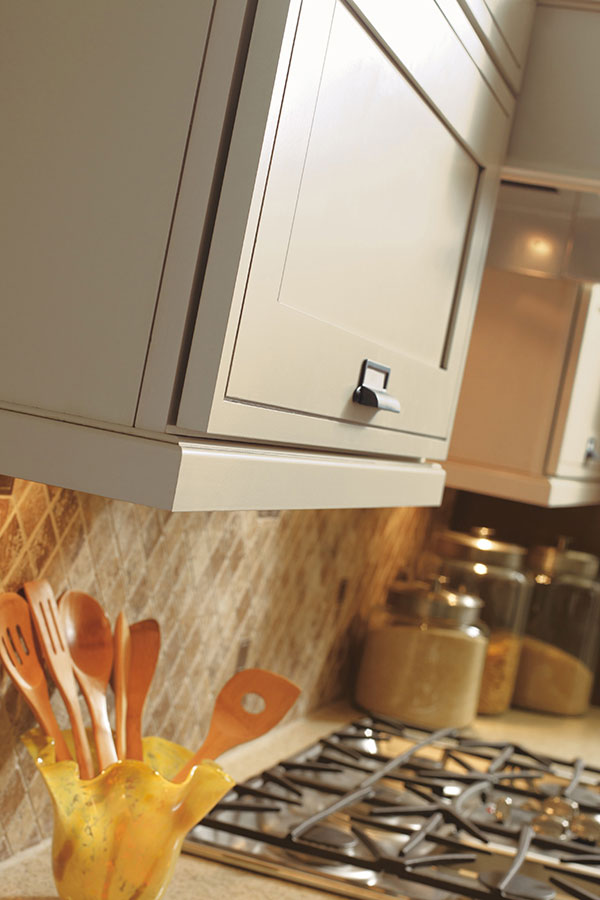 Light rail molding is a type of decorative trim that is commonly installed along the bottom of upper cabinets. This specialized trim is used to hide and conceal under-cabinet lighting fixtures, which are often required for illuminating work surfaces and creating a more holistic aesthetic in the kitchen or other types of spaces.
Light rail molding can be made from a variety of materials, including both wood and plastic, and it comes in a variety of shapes, styles, and colors to suit any aesthetic. Whether you are looking to add subtle warmth or brightness to your space with lighting, or simply want to elevate the overall look of your kitchen cabinets, light rail molding is an excellent option that can help you achieve these goals.
How to Install Light Rail Molding
There are a few key steps that you need to follow when installing light rail molding on cabinets. First, you will need to mark the placement of your molding pieces. This can be done easily using a measuring tape and a pencil or marker.
You should then use a saw to cut the molding pieces to size. It is important to make sure that you have measured and cut all of your pieces accurately in order for them to fit together neatly. 
Once your pieces are cut, you should attach them to the cabinet using glue or fasteners like nails or screws, depending on what type of molding material you are working with. Finally, you will need to sand down any rough edges or excess glue from your newly installed molding.
Maintaining Light Rail Molding
Maintaining your light rail molding on cabinets is important to keep your cabinets looking their best. Light rail molding is the small ledge that runs along the top of your cabinet doors, and it can show signs of wear and tear over time if not properly cared for.
The key to maintaining light rail molding is to take a few simple steps each day: first, gently dust the molding using a soft cloth or brush; then, run a damp cloth along the top edge of the rail to remove any buildup of dirt or grease. If needed, you can also apply a coat of specially formulated furniture polish to add extra protection and luster to your molding. 
Where to Buy Light Rail Molding?
If you are looking for quality light rail molding to use in your home or business, Nelson Cabinetry is a great place to start. Whether you prefer sleek and modern or classic and understated, Nelson Cabinetry has the perfect lighting rail for your needs. And with their expert design services and fast, reliable shipping options, ordering from this trusted vendor is a hassle-free experience from start to finish. So why wait? Head on over to Nelson Cabinetry today and find the perfect light rail molding for your home!
See how our designers can
create

your Dream Kitchen
Get a free 2D layout
Design & layout with as many revisions until it's perfect!
3D rendering
High quality, realistic 3D rendering of project within 24 hours!
Itemized quote
Quotes are detailed, transparent, and come with 15 day Price Gurantee!
Professional Grade Design
Professionalism and quality so good, 15,000+ families have said YES!
BOOK A CALL
Final Thoughts
Light rail molding is a versatile and stylish way to add a touch of elegance to any kitchen. This decorative trim helps to conceal under-cabinet lighting fixtures, ensuring that your space still feels bright and open. It can also be used to hide unsightly gaps between cabinets and countertops, giving your whole kitchen a polished, streamlined look. 
Whether you are looking for a simple way to add visual interest or need to cover up some functional infrastructure, light rail molding has you covered. So why wait? Install this ingenious trim in your kitchen today and experience the transformative power of style and substance!
Nelson Cabinetry
Nelson Cabinetry is an online distributor of high quality kitchen and bathroom cabinetry. We pride ourselves in delivering a high quality product via an easy to use, convenient website. Placing your cabinet order has never been easier and you can do so from the comfort of your home, office or job site.
Evan Nelson is an interior designer who believes that your home should reflect your unique style and personality. He specializes in creating custom spaces that are both beautiful and functional.