Convincing Tagline
Best White and Gray RTA Cabinets in the Business
If you want designers to design your kitchen for you or to save money on your purchase, click here
How to Plan a Bathroom Remodel Budget for 2022
By:
|
Last updated: June 7, 2022
If you're planning a bathroom remodel, it's important to set up a budget and timeline for the project. Bathrooms are a priority in any home improvement project, and bathroom renovations have been on the rise over the past few years, so you'll want to ensure that your bathroom is up-to-date.
Understanding the bathroom remodel process can be overwhelming, but this guide will walk through everything that needs to happen before your bathroom looks new again. From bathroom design and budgeting to installation and finishing touches, this article offers all of the information you need in order to plan a bathroom remodel budget for 2022!
What Determines the Price of a Bathroom Remodel
Not every bathroom is the same. There are several factors that cause cost variations in bathroom remodels:
Size: The square footage of your bathroom is likely one of the biggest factors when it comes to deciding on a budget. A larger space means more tiling, painting, and fixtures will be required.
Preferences: Expect to pay a pretty penny for these modern and exquisite finishes.
Quality of materials: The materials you choose for your bathroom cabinets, countertops and tiling will not just affect their overall appearance but also determine how long they last. Thoughtful material selection is crucial when it comes to a room's durability so that we don't have any issues with satisfaction down the line!
Plumbing and electrical work: Hiring a professional plumber is the best way to make sure your house stays clean and running smoothly. You'll need licensed contractors for any plumbing or electrical work that needs to be done, so be sure not only to hire one but also double-check their credentials before starting!
What Should Your Budget Look Like
The National Kitchen and Bath Association (NKBA) says that you should expect to spend between 5-10% of your home's value on a bathroom remodel.
Suggested bathroom remodeling costs allocation:
Installation: 20%
Cabinetry and Hardware: 16%
Fixtures: 15%
Faucets and Plumbing: 14%
Flooring: 9%
Countertops: 7%
Walls and Ceilings: 5%
Design fees: 4%
Doors and Windows: 4%
Other: 1%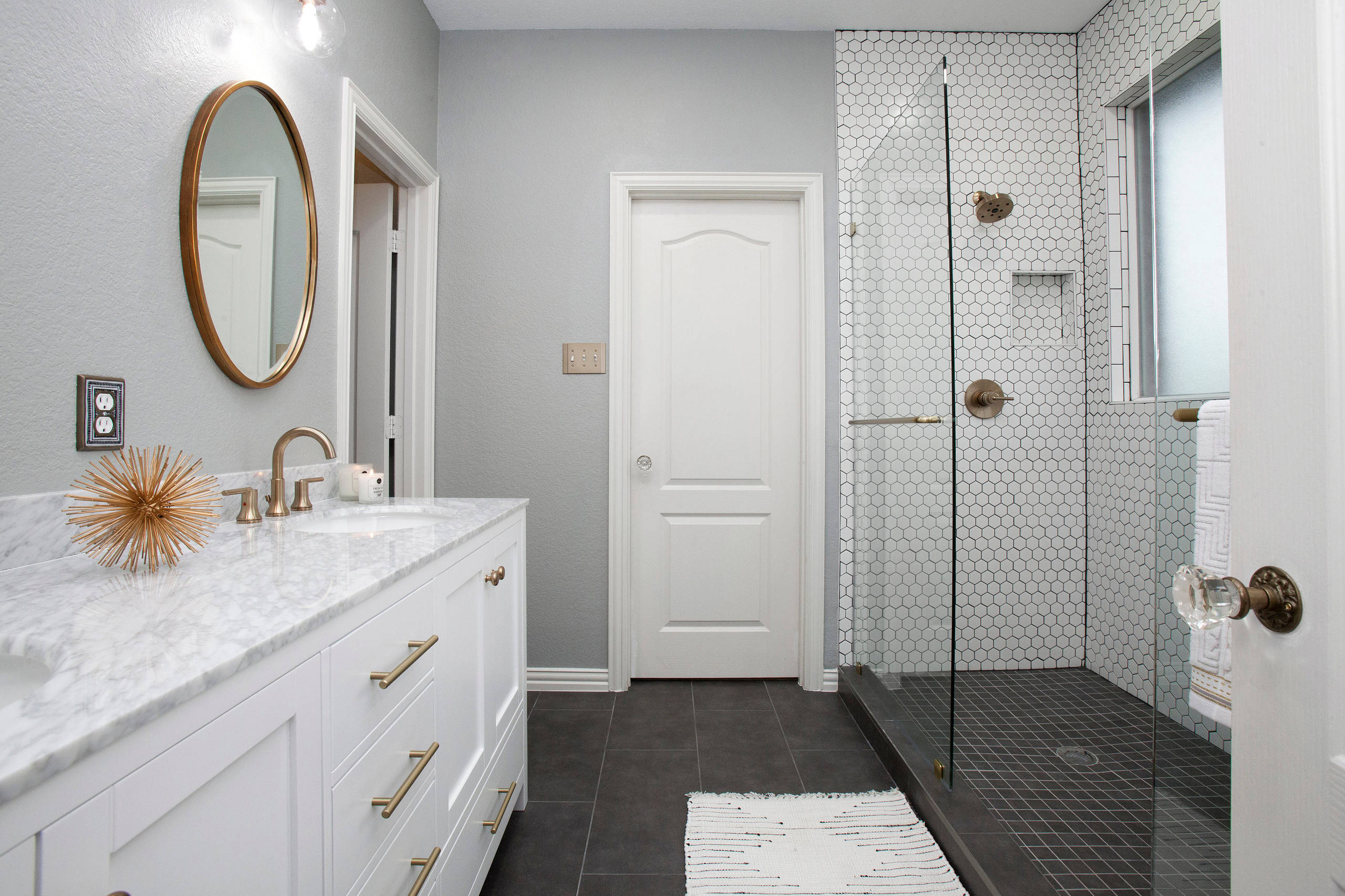 See how our designers can
create

your Dream Kitchen
Get a free 2D layout
Design & layout with as many revisions until it's perfect!
3D rendering
High quality, realistic 3D rendering of project within 24 hours!
Itemized quote
Quotes are detailed, transparent, and come with 15 day Price Gurantee!
Professional Grade Design
Professionalism and quality so good, 15,000+ families have said YES!
BOOK A CALL
3 Types of Bathroom Remodels
Minor Bathroom Remodel
Average Cost: $4,500 — $15,000
The cost of a small bathroom is much lower than that in larger spaces because there aren't as many plumbing fixtures or square footage. To stay within your budget, keep the original layout intact and just expand upon what you already have with minimal changes needed for comfort purposes only!
Minor update can include the following:
Bathtub: $400 — $1,500
Cabinets: $1,200 — $3,500
Countertops: $900 — $2,000
Flooring: $800 — $2,000
Lighting: $450 — $900
Shower: $450 — $2,000
Sink: $190 — $900
Toilet: $130 — $250
Paint: $100 — $150
Stylish embellishments: $50 — $100
Mid-Range Bathroom Remodel
Average Cost: $15,500 — $25,500
Most homeowners opt for an average bathroom remodel, which includes replacing fixtures and installing updated versions while keeping them where you already found them before!
Mid-range update can include the following:
Bathtub: $2,600 — $4,100
Cabinets: $4,700 — $7,000
Countertops: $2,800 — $4,100
Flooring: $2,500 — $3,600
Lighting: $1,100 — $1,700
Shower: $3,000 — $4,800
Sink: $1,400 — $2,300
Toilet: $340 — $480
Paint: $200 — $300
Major Bathroom Remodel
Average Cost: $30,000+
When you have a large room with many fixtures, it will be more expensive to remodel. The goal here is to take your space from being purely functional and turn it into an oasis that is personalized just right for who YOU are!
Major update can include the following:
Bathtub: $6,000 — $8,000
Cabinets: $8,000 — $13,000
Countertops: $5,000 — $6,500
Flooring: $5,000 — $7,000
Lighting: $2,500 — $4,000
Shower: $6,000 — $10,000
Sink: $3,500 — $6,500
Toilet: $550 — $780
Paint: $400 — $500
How to Cut the Costs
There are some things you can do to save money on your next bathroom remodel project:
Choose white cabinets: White cabinets are generally more affordable and timeless compared to the other options, so it's sure they're going to last you for years to come. If you need more inspiration on white cabinets, you should check out our amazing collection!
DIY: You don't have to use a contractor for everything. To save money, try doing some things yourself.
Skip tile: When it comes to buying and installing tile, the cost can be costly. Consider other options like laminate flooring or prefabricated shower surrounds that are cheaper in price!
Stick to the budget: It's important to know your budget and be clear about it. Don't let the costs snowball or you could end up spending more than expected on a project that was supposed to be an affordable and quick fix!
Final Thoughts
Bathroom remodels are a great investment. If you're considering getting started on your own, know that it will be worth the money and time invested in the project. However, there is a right way to go about this process which might make things easier for you. Determine what features or products you need most in order to create an appropriate budget that meets both your needs and wants. Stick to this budget when shopping around for materials and don't forget to add in any labor costs if needed! Let us know if you need more help.
Nelson Cabinetry
Nelson Cabinetry is an online distributor of high quality kitchen and bathroom cabinetry. We pride ourselves in delivering a high quality product via an easy to use, convenient website. Placing your cabinet order has never been easier and you can do so from the comfort of your home, office or job site.
Evan Nelson is an interior designer who believes that your home should reflect your unique style and personality. He specializes in creating custom spaces that are both beautiful and functional.