Convincing Tagline
Best White and Gray RTA Cabinets in the Business
If you want designers to design your kitchen for you or to save money on your purchase, click here
Get Perfect Kitchen Cabinet Measurements With These 5 Easy Steps
By:
|
Last updated: October 12, 2022
Taking measurements is the first and one of the most important steps when it comes to kitchen remodeling or starting a new project from scratch. The correct measurements ensure that your new kitchen cabinets will fit perfectly. To take measurements you will need some simple tools: a measuring tape, a pencil, a calculator (which you can find on your smartphone) and some scratch paper or a planning grid. Always take the measurements twice!
"Measure twice, cut once"
Source: Red Rock Cabinets
Step 1: Make a Rough Sketch of Your Kitchen
Start by creating a blueprint of your kitchen and everything in it. Mark the places where your doorways, windows, vents and kitchen appliances are. Also mark whether the area has upper or lower cabinets (or both). Your layout drawing doesn't need to be perfect, but it should be clear and easy to understand.
Step 2: Take Horizontal and Vertical Measurements
Once you have your first draft, it's time to measure. Measure from wall edge to wall edge to get the total space. The measurements for openings like doors and windows are taken from one underside of trim to the other underside of trim. Take your measurements from 37 in (91 cm) up, or the height most cabinet countertops sit at.
To get the distance from the floor to the ceiling take the tape measure at each corner and the middle of each wall. Also, take measurements from floor to the windowsill, from windowsill to the top of the window, and from the top of the window to the ceiling.
Make sure to record any obstructions like radiators and pipes. Get measurements for any objects that are connected to the wall such as a sink, an oven or other appliances. Find the distance between objects that are connected to the wall and both your floor and ceiling.
See how our designers can
create

your Dream Kitchen
Get a free 2D layout
Design & layout with as many revisions until it's perfect!
3D rendering
High quality, realistic 3D rendering of project within 24 hours!
Itemized quote
Quotes are detailed, transparent, and come with 15 day Price Gurantee!
Professional Grade Design
Professionalism and quality so good, 15,000+ families have said YES!
BOOK A CALL
Step 3: Measure Your Existing Kitchen Cabinets
If you already have cabinets that you want to replace, measure their height, width and depth. Using a tape measure, calculate the height of each cabinet from base to tip and the depth of each cabinet from front to rear. Make sure to include any countertops, toe kicks or similar appendages. Take the interior measurements as well separated from the exterior measurements, as the cabinets are usually smaller on the inside. If necessary, find the distance between cabinets and objects that are fixed to the wall.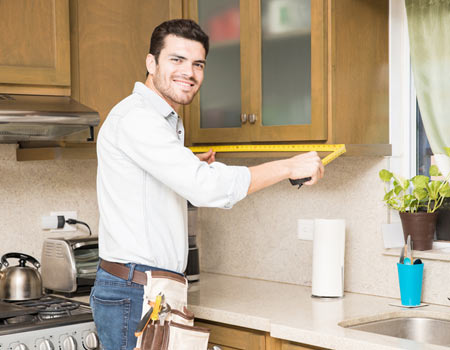 Measure the height, width and depth of your kitchen cabinets
Source: Custom Kitchen Design
Step 4: Take Detailed Photos of Your Kitchen
This is a quick tip that will help you in the long run. Take detailed photos of your current kitchen layout and any bits you're unsure about so you can have a better visual representation. That is also a great way to compare the before and after of your kitchen makeover once you're finished.
Step 5: Use a Free 3D Kitchen Design Tool
Take advantage of free planning and design tools available to you on the internet. Nelson Cabinetry offers one of the best free 3D kitchen design tools. Simply upload your kitchen pictures, blueprints or a layout and provide any additional information to get your 3D design in just a few hours. The more details you provide, the better the results will be!
Conclusion
Taking measurements is one of the most important steps when it comes to kitchen design. Start by making a rough sketch of your kitchen. After that take vertical and horizontal measurements as precisely as possible. If you already have kitchen cabinets that you want to replace, measure their height, width and depth. Take photos of your kitchen and use free design tools available on the internet.
Nelson Cabinetry
Nelson Cabinetry is an online distributor of high quality kitchen and bathroom cabinetry. We pride ourselves in delivering a high quality product via an easy to use, convenient website. Placing your cabinet order has never been easier and you can do so from the comfort of your home, office or job site.
Evan Nelson is an interior designer who believes that your home should reflect your unique style and personality. He specializes in creating custom spaces that are both beautiful and functional.