Convincing Tagline
Best White and Gray RTA Cabinets in the Business
If you want designers to design your kitchen for you or to save money on your purchase, click here
How to Make Your Kitchen Eco-Friendly
By:
|
Last updated: June 7, 2022
Many people are searching for ways to make their kitchens more eco-friendly. Here are some tips on how you can create a greener, cleaner kitchen that is better for the environment!
We all want to live in a world that is safe for our children and grandchildren. It can be discouraging when we are faced with the fact that most of our modern conveniences are not eco-friendly, or even worse, they cause significant harm to the environment. Creating an eco-friendly kitchen is not as hard as it sounds. Below, we will discuss some of the best ways to make your kitchen more environmentally friendly and give you a few ideas on how to save money!
Natural Cleaning Products
The first step is simple – use natural cleaning products! These products don't contain harmful chemicals like bleach, ammonia, or formaldehyde which have been linked to respiratory illnesses and cancer.
Reusable Products
Another simple way to make your kitchen more eco-friendly is by making use of reusable products. For example, instead of using paper towels or napkins, try cloth napkins that can be washed and reused. You can also buy a set of stainless steel straws which can be used over and over again – no waste!
See how our designers can
create

your Dream Kitchen
Get a free 2D layout
Design & layout with as many revisions until it's perfect!
3D rendering
High quality, realistic 3D rendering of project within 24 hours!
Itemized quote
Quotes are detailed, transparent, and come with 15 day Price Gurantee!
Professional Grade Design
Professionalism and quality so good, 15,000+ families have said YES!
BOOK A CALL
Create a Timeless Design
Designing an effective and sustainable kitchen all comes down to one thing: longevity. The more you have to replace or refurbish your kitchen, the less sustainable it will be in the long run. With a timeless kitchen, you can avoid having to replace it often. Our collection of shaker cabinets is perfect for those looking for a timeless feel while also wanting to create an eco-friendly kitchen at the same time.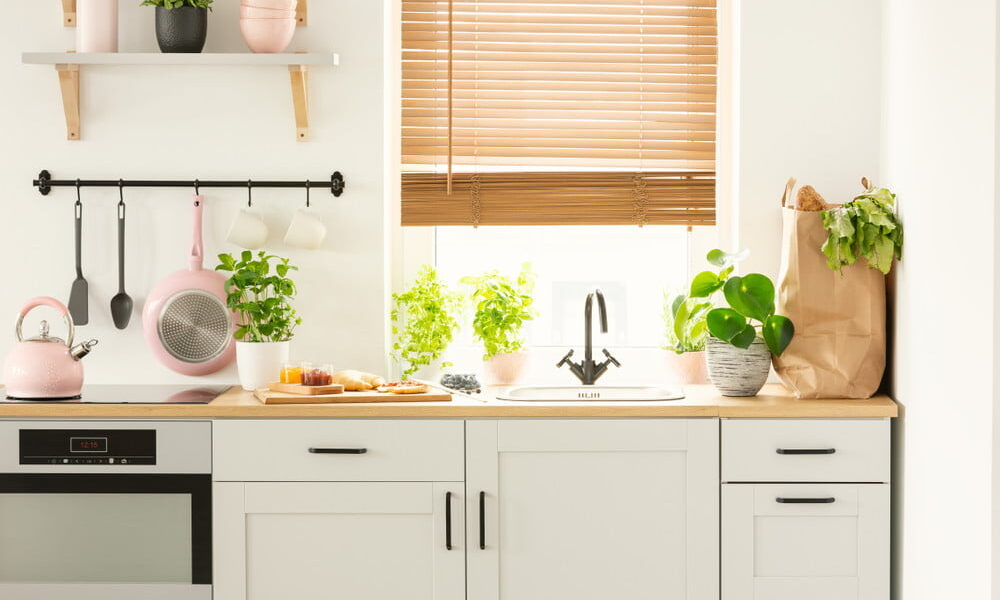 Taking care of your kitchen also ensures it's going to last for a long time. We made this amazing guide that will make your life easier and your kitchen cabinets last forever!
Use a More Efficient Lighting
In the kitchen, there are certain necessities that can be replaced with eco-friendly alternatives for lighting, such as LED lights. LED lights are one of the most eco-friendly alternatives to other types of lighting. This is because they do not contain mercury, which is a neurotoxin and can be harmful to humans as well as wildlife.
Touch-free Appliances
By installing a touch-free sink, you can effectively minimize the amount of water waste and boost efficiency in your new kitchen. With an automatic shut-off on your appliances, you can save energy and money by ensuring that these devices are not turned on when they're unnecessary.
Final Thoughts
The environment is something we all take for granted until it's too late to do anything about it. You can help save the Earth by making small changes in your life and design choices that will have a big impact on our planet. We would love to share ideas for incorporating sustainable design principles into your next project so we can create beautiful homes together. Do any of these tips resonate with you? Building green doesn't have to cost more than building traditional materials; just think creatively!
Nelson Cabinetry
Nelson Cabinetry is an online distributor of high quality kitchen and bathroom cabinetry. We pride ourselves in delivering a high quality product via an easy to use, convenient website. Placing your cabinet order has never been easier and you can do so from the comfort of your home, office or job site.
Evan Nelson is an interior designer who believes that your home should reflect your unique style and personality. He specializes in creating custom spaces that are both beautiful and functional.