Convincing Tagline
Best White and Gray RTA Cabinets in the Business
If you want designers to design your kitchen for you or to save money on your purchase, click here
Frameless vs Framed Cabinets: What's the Difference?
By:
|
Last updated: April 29, 2022
If you're in the market for new cabinets, you may be wondering if frameless or framed cabinets are the right choice for your home. Both types of cabinets have their pros and cons, so it can be tough to decide which is best for you.
Do you know the difference between framed and frameless cabinets? If not, you're not alone! A lot of people don't know the difference, or they assume that there isn't one. In this blog post, we will discuss the differences between these two types of cabinets so that you can make an informed decision about which is right for your home.
Frameless vs Framed Cabinets: The Difference
When it comes to cabinetry, there are two main design choices: frameless and framed cabinets. Frameless cabinets feature doors that attach directly to the cabinet box, without any visible frame surrounding them. In contrast, framed cabinet doors are attached to a frame that protrudes from the cabinet box, often creating a distinct visual border between the cabinet and the rest of the room. 
Frameless Cabinets
Frameless cabinets are also known as "full access" or "European style" cabinets. They are constructed without a face frame, which gives them a sleek and modern look. Because there is no face frame, you have full access to the cabinet interior, making it easier to clean and organize. Frameless cabinets also tend to be more expensive than their framed counterparts.
Benefits of frameless cabinets include:
Increased space: Frameless cabinets take up less visual space than framed cabinets, giving you more room to work with. 

Easier cleaning: The lack of a frame makes it much simpler to clean all the nooks and crannies around your cabinet's edges. 

More design options: Because frameless cabinets don't have any structural restrictions, you can choose from a wider variety of designs and styles. 

A modern look: Frameless cabinets are a popular choice for contemporary homes as they give off a sleek and stylish vibe.
Framed Cabinets
Framed cabinets, on the other hand, have a face frame that is attached to the front of the cabinet box. This gives them a more traditional look and feel. The face frame can also provide additional support for the cabinet doors. However, because of the face frame, you have less access to the interior of the cabinet.
Benefits of framed cabinets include: 
Framed cabinets are more durable than frameless cabinets.

They're easier to clean because the frame seals the edges of the cabinet, keeping dirt and dust from getting trapped in the crevices.

The frame provides a solid backing for attaching hinges, which makes cabinets more stable and less likely to warp over time.

Framed cabinets can be tailored to match any décor; there are endless style options available.
Which is Right for You?
While both types of cabinets have their advantages, many homeowners choose to go with framed cabinets due to their increased popularity and perceived aesthetic appeal. Compared to frameless cabinets, which use a flat surface all around the exterior shell of the cabinet, framed cabinets feature precise mitered edges at the corners of each door or drawer. This finished look creates a clean and polished appearance that many people find very appealing.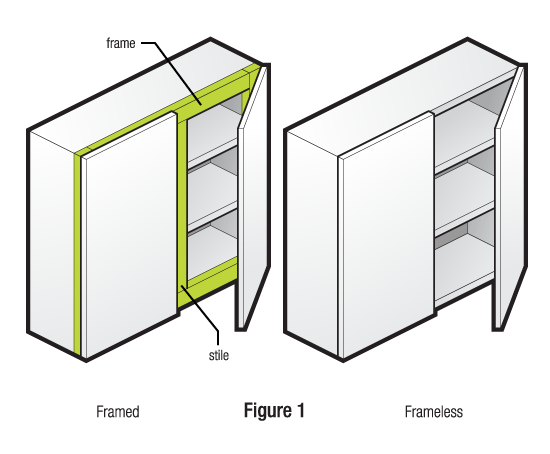 Additionally, because they offer more structural support, framed cabinets are often seen as being stronger and more durable than frameless alternatives.
Ultimately, the right style of cabinet for your kitchen will depend on your personal preferences and budget.
Final Thoughts
Frameless cabinets are growing in popularity, but framed cabinets continue to be the most popular choice for homeowners. There are many reasons for this, including the finished look that mitered edges create and the fact that framed cabinets can be easier to install than frameless cabinets. If you're considering new cabinets for your home, it's important to weigh the pros and cons of both types before making a decision. Which type of cabinet do you prefer? Either way, we can help you find the perfect cabinets for your home. Contact us today to get started!
Nelson Cabinetry
Nelson Cabinetry is an online distributor of high quality kitchen and bathroom cabinetry. We pride ourselves in delivering a high quality product via an easy to use, convenient website. Placing your cabinet order has never been easier and you can do so from the comfort of your home, office or job site.
Evan Nelson is an interior designer who believes that your home should reflect your unique style and personality. He specializes in creating custom spaces that are both beautiful and functional.