Convincing Tagline
Best White and Gray RTA Cabinets in the Business
If you want designers to design your kitchen for you or to save money on your purchase, click here
Creating a Modern Farmhouse Kitchen: Tips and Tricks
By:
|
Last updated: June 7, 2022
You may have heard that modern farmhouse kitchens are all the rage these days. But what does "modern farmhouse" mean? It's not just about modern design and sleek appliances-it also includes beautiful cabinetry, plenty of storage space, and cleverly designed features to ensure both function and style.
The modern farmhouse kitchen is a staple in modern lifestyles. It is all about simplicity and elegance, with a nod to the past. These kitchens don't have any of the clutter or unnecessary items that were found in traditional kitchens. They also give you more space and open up your home – which can be important if you live in an urban area with limited space! Learn how to create this modern farmhouse kitchen today, with these amazing tips!
How to Design a Modern Farmhouse
Kitchen Cabinets and Countertops
Use modern, simple materials for the cabinets and countertops. For example, choose matte white or pale gray cabinets with stainless steel or glass fronts along with a clean-lined modern sink instead of an older basin style that might not go with modern decor. When choosing a countertop, think about the style of your kitchen and select a material that will fit in with the overall look. You also need to consider how much wear and tear the countertop will see and choose a material that is durable enough to stand up to daily use.
When it comes to kitchen cabinets, there are a few things you need to keep in mind. First, choose a style that will complement the overall look of your kitchen. Second, make sure to select a color and finish that will both stand the test of time and fit with your existing decor. Third, think about how much storage space you'll need and select cabinets that provide plenty of room for all of your pots, pans, utensils, and other kitchen supplies. Cabinets at Nelson Cabinetry provide all three of these things, so make sure you check out the amazing collection for more inspiration!
See how our designers can
create

your Dream Kitchen
Get a free 2D layout
Design & layout with as many revisions until it's perfect!
3D rendering
High quality, realistic 3D rendering of project within 24 hours!
Itemized quote
Quotes are detailed, transparent, and come with 15 day Price Gurantee!
Professional Grade Design
Professionalism and quality so good, 15,000+ families have said YES!
BOOK A CALL
Other Storage Solutions
Open shelving is a great way to add extra storage space to your kitchen while also adding visual interest. You can use open shelving to display modern art, family keepsakes, or your favorite kitchen supplies. Just be sure to select shelves that are made from high-quality materials so they can withstand daily use.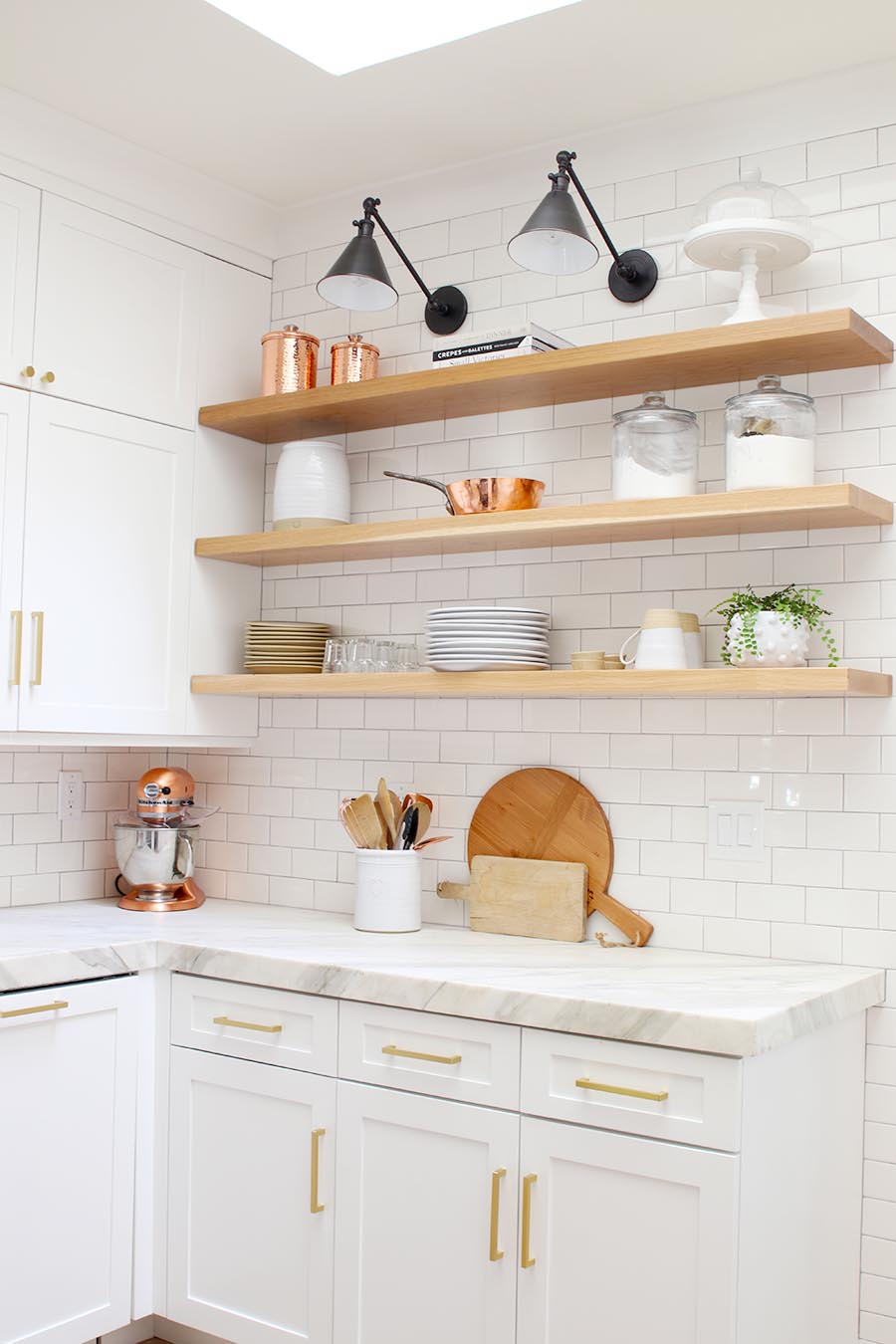 Install a kitchen island for even more storage and counter space. Kitchen islands are a great way to maximize your kitchen's functionality and can be customized with features like drawers, cabinets, and shelves to fit your needs.
Attractive Details
Make sure your modern farmhouse kitchen is equipped with all of the features you need and want. Include modern appliances that are easy to clean and fit in seamlessly with the modern farmhouse kitchen design, complementing the style. For a backsplash, you can use glass tile or concrete tile. Add modern lighting fixtures that are built into the cabinets to maximize space and give your farmhouse kitchen a modern feel.
Final Thoughts
And this is how you create a modern farmhouse kitchen! If you need any further help, we're here for you! We offer a free 3D design so you can visualize your dream farmhouse kitchen before making any big purchases! Stay tuned for more amazing tips on kitchen design.
Nelson Cabinetry
Nelson Cabinetry is an online distributor of high quality kitchen and bathroom cabinetry. We pride ourselves in delivering a high quality product via an easy to use, convenient website. Placing your cabinet order has never been easier and you can do so from the comfort of your home, office or job site.
Evan Nelson is an interior designer who believes that your home should reflect your unique style and personality. He specializes in creating custom spaces that are both beautiful and functional.