Convincing Tagline
Best White and Gray RTA Cabinets in the Business
If you want designers to design your kitchen for you or to save money on your purchase, click here
Corner Molding: The Secret to Better Interior Design
By:
|
Last updated: November 7, 2022
Do you want to improve the look of your home, but don't know where to start? Corner molding is a great way to enhance the appearance of any room without breaking the bank. In this blog post, we will discuss the benefits of using corner molding and provide tips on how to choose the right type for your needs. We will also show you how to install corner molding like a pro!
What is Corner Molding?
Corner molding is a type of trim that is designed to cover the corners of walls, beams, and other structural elements. Typically made from wood or plastic, this versatile trim can be used both indoors and outside to enhance the appearance and functionality of a space. 
The height of corner molding can vary depending on the structure it is being applied to, but it is typically installed either flush with or just slightly above the surface, so as not to interfere with other fixtures or decorations in the area.
In addition to aesthetic purposes, corner molding can also be used to provide protection from impacts and water damage, making it an important component in any setting where safety and durability are concerns. Overall, corner molding is a simple but effective way to spruce up any space!
How to Install Corner Molding
Installing corner molding can be a tricky project, but with the right tools and techniques, it is possible to get a professional-looking result. To start, you will need to measure your corners carefully and purchase the appropriate supplies. For best results, choose high-quality materials such as wood or vinyl, as these will hold up better over time. 
Next, use a level to mark your corners and cut them using a miter saw or other durable cutting tool. Finally, depending on the type of corner molding you are using, you may need to attach small blocks to the back of each piece in order to create a snug fit. With this process in mind, you should be able to install corner molding like an expert in no time!
How to Cut Inside Corner Crown Molding
One of the most important aspects of cutting crown molding is making clean inside corners and curves, and this can typically be done with a few simple steps. First, use a miter saw or sharp utility knife to cut your pieces of molding. Next, measure where the inside corner will go and make sure that your cuts are at a 45-degree angle.
Use a coping saw or jigsaw to create an arched opening in your second piece of molding so that it can fit smoothly along the curve in the wall. Once everything is carefully measured and cut, you can attach your pieces of molding using an adhesive or nail gun and enjoy your beautiful new crown molding!
How to Cut Outside Corner Crown Molding
To cut outside corner crown molding, you will first need to determine the angle of your miter. This can be done by measuring the angle of your ceiling, if it is 90 degrees or less. If your ceiling is more than 90 degrees, you will need to create a mock crown molding shape with masking tape, allowing it to wrap over the edge of the surface by around ¼ inch. Use a protractor to measure this angle and then use it to adjust the miter saw for cutting the crown molding at that same degree.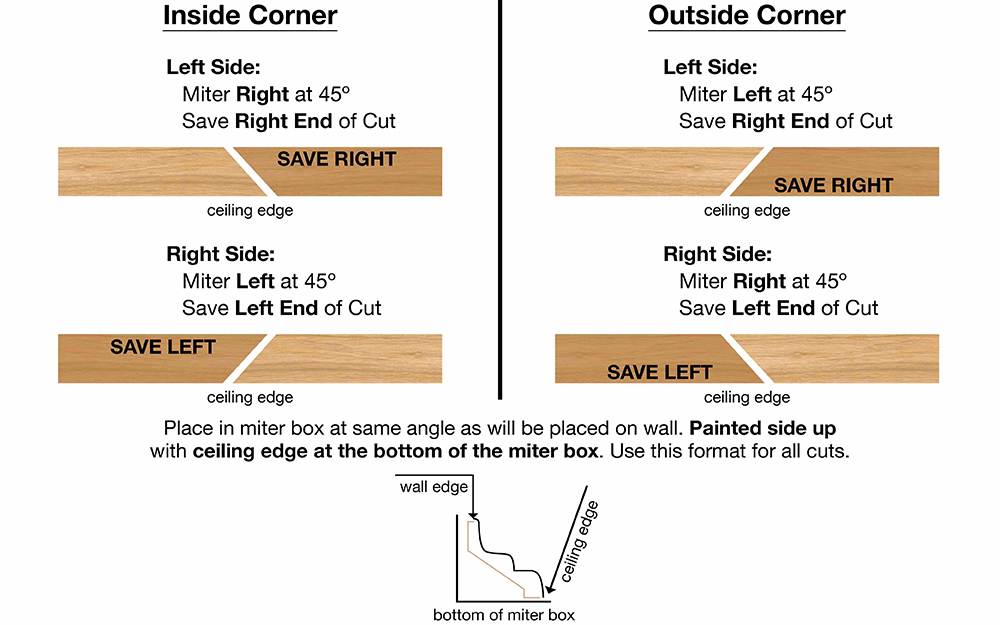 Once you have your miter set correctly, use a tape measure to mark out the length of each piece of crown molding that you will need to cut on both ends. The ends should be positioned so that they overlap at an inside corner. Cut each piece along these markings using a sharp utility knife or table saw.
To cut outside corners in your crown molding pieces, make sure to trim one side one-third of an inch longer than the other side. Next, mark where each piece meets at the inside corner with pencil marks and tape them into place temporarily. Once they are aligned properly, use a hammer and nails to secure them together in place while also holding them upright. Finally, finish off your cuts by making small adjustments if needed until they fit perfectly within your wall space and form clean outside corners. 
How to Install Crown Molding Corner Blocks
When installing crown molding, one of the most important steps is creating a secure corner joint. This can be done using well-placed corner blocks, which provide a firm base for your crown molding to sit on and ensure that it lines up properly along each edge. 
The first step in installing corning blocks is to determine where they will go and mark their position in the corners. Once the marks are made, you'll need to measure the width of your crown molding and cut each block accordingly. Then, it's simply a matter of securing each block to the wall with nails or screws before putting on your crown molding. 
See how our designers can
create

your Dream Kitchen
Get a free 2D layout
Design & layout with as many revisions until it's perfect!
3D rendering
High quality, realistic 3D rendering of project within 24 hours!
Itemized quote
Quotes are detailed, transparent, and come with 15 day Price Gurantee!
Professional Grade Design
Professionalism and quality so good, 15,000+ families have said YES!
BOOK A CALL
Final Thoughts
Corner molding is often overlooked in the world of interior design, but it can play a major role in creating a truly beautiful and functional space. This versatile material is the perfect way to add a pop of style and functionality to any room, by helping to protect walls from damage and keep them looking their best. 
Whether you choose smooth, flat corner molding, or opt for more decorative designs with curved edges or intricate details, there are endless options for giving your home a polished and polished look. So if you're ready to take your interior design skills to the next level, be sure to add corner molding to your list of must-have design tools!
FAQ
How to cut corner guard molding?
When it comes to cutting corner guard molding, there are a few things to keep in mind. First, it's important to use a sharp blade and make sure that the molding is held firmly in place before you begin cutting. You should also measure carefully, making sure that your cuts are straight and precise. 
Additionally, try to visualize the shape of the molding as you cut, paying careful attention to not only the length of each piece but also the angle at which it meets other pieces.
What angle to cut crown molding corner cabinet?
Some general guidelines suggest aiming for an angle between 30 and 45 degrees, but in many cases it may be necessary to try out various angles until you find one that feels right. 
Choosing the right angle to cut crown molding for a corner cabinet can be tricky, especially if you are new to carpentry. There are several factors that need to be taken into consideration when making this decision, such as the size of your room, the height of your cabinets, and the type of moldings you have chosen. 

Nelson Cabinetry
Nelson Cabinetry is an online distributor of high quality kitchen and bathroom cabinetry. We pride ourselves in delivering a high quality product via an easy to use, convenient website. Placing your cabinet order has never been easier and you can do so from the comfort of your home, office or job site.
Evan Nelson is an interior designer who believes that your home should reflect your unique style and personality. He specializes in creating custom spaces that are both beautiful and functional.