Convincing Tagline
Best White and Gray RTA Cabinets in the Business
If you want designers to design your kitchen for you or to save money on your purchase, click here
Where to Buy a Kitchen Island? Getting the Best Deal
By:
|
Last updated: November 4, 2022
Do you love to cook? Do you find yourself wishing you had more counter space in your kitchen? If so, then you may want to consider adding a kitchen island to your home. Kitchen islands can add extra counter space and storage to your kitchen, and they can be a great place to prepare food or eat dinner. If you're considering adding a kitchen island to your home, then read on for some tips on where to buy a kitchen island.
Where to Buy a Kitchen Island Near Me?
When it comes to choosing a kitchen island, there are many different factors to consider. Beyond size and budget, it's also important to think about things like aesthetics, functionality, and material. Some good options for where to buy a kitchen island include big box stores, home furnishing retailers, online marketplaces, and custom furniture makers.
Big Box Stores
One popular choice is big box stores like IKEA and Home Depot, which offer a wide selection of different styles and sizes at affordable prices. These stores also tend to be centrally located and easy to get to, making them a convenient option for many home shoppers. 
However, while you might be tempted to go for a big box store like IKEA or Home Depot, realistically these options aren't always the most cost-effective. Instead, it might be worth considering smaller mom-and-pop stores or online retailers, which can often offer discounts on unique and high-quality pieces. Additionally, many of these smaller stores are able to offer customizations and one-on-one support that can make the shopping experience much more enjoyable.
Custom-Made Kitchen Islands
For many people, the most obvious choice is to shop at a big-box appliance store or online retailer, where you can find a wide selection of pre-made islands at various price points. However, for those who are looking for something truly unique and customizable, the best option may be to work with a local artisan or cabinetmaker to design and order a custom island made just for your kitchen.
Although custom islands can be quite expensive, they do offer some notable benefits. For one thing, they allow you to choose every detail of the design, so your kitchen will truly reflect your style and preferences.
However, these custom designs can be quite expensive, often costing more than you might expect. In fact, some experts suggest that investing in custom kitchen islands may not actually be the best choice for your home from an ROI perspective. After all, there are many aesthetic options available today that allow you to achieve the same style and feel of custom islands on the cheap.
Online Retailers
If you are looking for an affordable solution that will give you plenty of choice and flexibility, online retailers may be your best bet. These sites make it easy to browse a wide selection of ready-to-assemble kitchen islands and customize them to suit your unique style preferences. And while DIY work can often seem daunting, doing some simple remodeling work on your own can save you hundreds – if not thousands – of dollars compared to buying an off-the-shelf option from a retailer.
When it comes to saving time and money while upgrading your kitchen, a RTA kitchen island is the perfect solution. Not only does an RTA kitchen island offer unmatched utility and convenience, but it also helps to increase your home's overall ROI. 
In addition, since they utilize premade components that are available at a wide range of price points, RTA kitchen islands allow you to create a unique and high-quality finish at an affordable cost. So if you are planning on upgrading your kitchen in the near future, make sure to add an RTA kitchen island to the list of must-have features!
How Much is a Kitchen Island?
When trying to decide how much is a kitchen island, there are several factors to consider. On the one hand, a fully custom kitchen island can be quite costly, ranging anywhere from $7,000 to $18,000 or more depending on the size and shape of the island. Alternatively, if you're looking for something a bit more economical, a semi-custom kitchen island may be a better option, costing between $3,000 and $10,000 depending on your needs and specifications.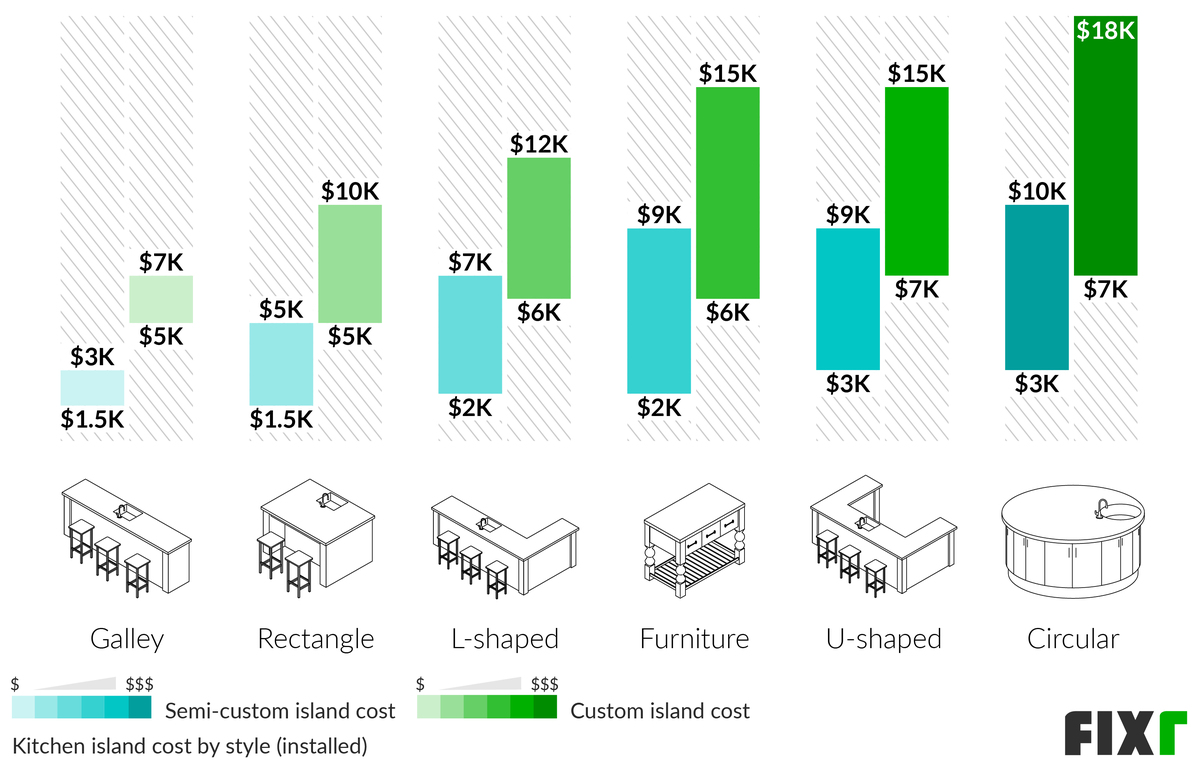 And if you are looking for the most affordable option that will help you save money on your kitchen remodel, then an RTA kitchen island may be the right choice for you.
An RTA kitchen island is a type of pre-assembled kitchen furniture that is designed to be easy and quick to install in any home. This type of island typically comes in modular pieces that can be easily attached together by simply snapping them into place, so they require no special tools or advanced knowledge. Because of this simple installation process, an RTA kitchen island tends to cost significantly less than other options, making it one of the most affordable options available on the market today.
At Nelson Cabinetry, we offer a wide range of kitchen island options at affordable prices, starting at just $369.59 for a small 30″ island up to $1148.75 for a larger island with three base units. So if you're in the market for a new kitchen addition, be sure to check out Nelson Cabinetry and find the perfect island for your home!
How to Install a Kitchen Island?
If you opt for a RTA kitchen island, installation may seem like a daunting task at first, but with the right tools and know-how, it can be done easily and efficiently. The first step is to prepare the area where you will be working. Clear any clutter or other obstructions that might get in your way, and make sure there is ample space for you to work comfortably. Next, measure the dimensions of the space where your island will go and carefully plan out how it will be positioned. Once you have decided on a layout, gather all of the materials that you will need, including screws and other hardware, as well as any connectors or braces needed to secure the island.
Once your materials are ready, it's time to start assembling your island! Begin by laying out all of the major components according to your plan, making sure that everything fits together just as it should. For pieces that arrive pre-drilled, use your screwdriver or drill to attach them together. For untapped surfaces such as laminate countertops or cabinet faces, predrill matching holes in both parts before securing them together with screws. You may also need to install brackets or connectors if any joints require extra stabilization or support. And remember to always keep safety in mind; use clamps and protective gear whenever necessary to minimize risk of injury.
When designing your kitchen, one of the most important decisions you will have to make is what your kitchen island will look like. Luckily, there is a great tool available that can help you to visualize your design in 3D: our free 3D kitchen design service. This easy-to-use tool allows you to create a truly customized kitchen island, choosing everything from the shape and size of the countertop to the style and color of the cabinets. With this simple yet powerful tool at your disposal, you can be sure that you'll get the perfect design for your unique space.
See how our designers can
create

your Dream Kitchen
Get a free 2D layout
Design & layout with as many revisions until it's perfect!
3D rendering
High quality, realistic 3D rendering of project within 24 hours!
Itemized quote
Quotes are detailed, transparent, and come with 15 day Price Gurantee!
Professional Grade Design
Professionalism and quality so good, 15,000+ families have said YES!
BOOK A CALL
Final Thoughts
When it comes to shopping for a kitchen island, there are really no hard and fast rules. Some people prefer the convenience and affordability of big box stores like IKEA or Home Depot, while others may choose to browse more specialized retailers that offer a wider selection of high-end options. Ultimately, whether you buy your kitchen island from a big box store or a specialty shop will depend on your personal preferences and budget.
FAQ
How big is a kitchen island?
Kitchen islands come in all shapes and sizes, ranging from small and compact to large and sprawling. Some may only be a few square feet, while others can occupy an entire wall of the kitchen. At their largest, kitchen islands usually span about 6 to 8 feet across, making them the perfect size for preparing food or enjoying a meal with company. Whatever size kitchen island you choose, it is sure to make a big impact on how you use your kitchen space!
How to add onto an existing kitchen island?
There are a number of different ways to add onto an existing kitchen island. The first option is to simply expand the island by adding new countertops, cabinets, and sinks. Another approach is to take a more creative route and incorporate features like open shelves, built-in nooks for appliances, or multi-level surfaces. Another option is to reinvent the entire kitchen space by creating a well-defined dining area around the island or installing unique lighting and tile floors that create a visual impact. 
How much space around kitchen island should be left?
A good rule of thumb is that you should have at least 18 inches of clearance on all sides, or 36 inches if you have more than one person cooking or serving at the island. This will help to ensure that there is sufficient room for people to move and work comfortably. Additionally, factors like the size and layout of your kitchen and the appliances located near the island can also play a role in determining how much space you need around it. 
Ultimately, whether you decide to leave smaller or larger amounts of space around your kitchen island will depend on your own preferences and needs as a cook or host.
Nelson Cabinetry
Nelson Cabinetry is an online distributor of high quality kitchen and bathroom cabinetry. We pride ourselves in delivering a high quality product via an easy to use, convenient website. Placing your cabinet order has never been easier and you can do so from the comfort of your home, office or job site.
Evan Nelson is an interior designer who believes that your home should reflect your unique style and personality. He specializes in creating custom spaces that are both beautiful and functional.