Convincing Tagline
Best White and Gray RTA Cabinets in the Business
If you want designers to design your kitchen for you or to save money on your purchase, click here
What to Do With Cabinets Under Your Sink
By:
|
Last updated: June 8, 2022
Even for those who started out with kitchens that seemed to offer more storage than they ever thought they could use, somehow storage space gets used up, month after month and year after year. A lot of this has to do with organization. Drawers will spontaneously become junk drawers when there's no dedicated space for miscellaneous items like rubber bands, notes, receipts, and keys. Even with the roomiest kitchen imaginable, things are going to get cluttered unless your space is organized.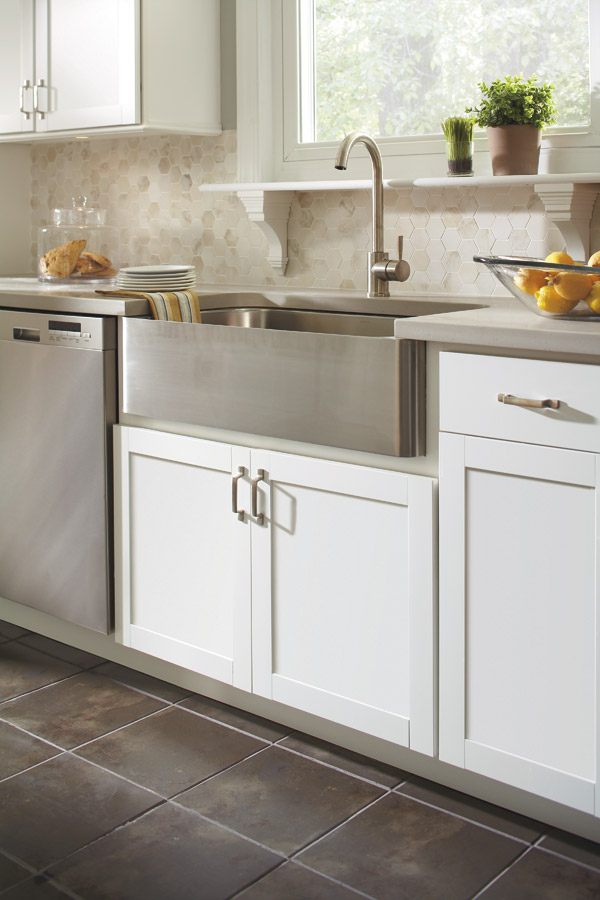 One place that homeowners often overlook is the space under the kitchen sink. Sometimes these spaces are downright awkward and there really isn't that much that fits under there! A standard sink base cabinet will have a top false panel and two doors on the bottom. Because of the sink plumbing that goes inside, it can be challenging to figure out how to best use it as a storage space. Read on for some brilliant ideas about what to do with that area, which can actually add some precious storage room for your kitchen.
Think beyond the garbage can
Probably the most common way that people make use of a sink base cabinet is by using it to store the trash can and/or the recycling bin. This is great if the dimensions work for you. But it can get tricky if you want a touch-top garbage can, since there might not be enough room for the lid to open all the way. There are in fact separate base cabinets that don't fit under the sink that are designed to be pulled out like a drawer, and these make it possible for you to have a touch-top or touchless garbage can. Meanwhile, if your garbage can is small enough and the base cabinet is big enough, you can also install a sliding wastebasket tray in the base sink cabinet, too.
Cleaning supplies
Coming in a close second behind the garbage can and recycling bins are cleaning supplies. The sink base cabinet is a logical place to store these since we often spend a lot of time at the sink when we're cleaning the kitchen. In addition to the sliding trays for garbage mentioned above, there are different sizes and some are even specifically designed to hold cleaning supplies. Some have clever features such as a tray for paper towels and multi-tiered baskets for bottles, sponges, scrubbers, and rags. If you are looking for something a little less involved than installing these caddies, you can even devise a simple shelving system for organizing all your cleaning supplies. It's preferable that these shelves be open or transparent so you can find what you're looking for in a cinch.
See how our designers can
create

your Dream Kitchen
Get a free 2D layout
Design & layout with as many revisions until it's perfect!
3D rendering
High quality, realistic 3D rendering of project within 24 hours!
Itemized quote
Quotes are detailed, transparent, and come with 15 day Price Gurantee!
Professional Grade Design
Professionalism and quality so good, 15,000+ families have said YES!
BOOK A CALL
Bags
Many of us re-use plastic and paper bags and have a spot in the kitchen to keep them squirreled away. There are many different models of plastic bag dispensers for storing and dispensing your used plastic bags, and under the sink is a great place to either hang them or mount them, depending on their design. You can also keep your paper bags folded up inside the base sink cabinet so your bags are all consolidated in one place. Why not keep your garbage can bags on a roll under your sink too?
Lower cabinet doors
The sneaky thing about storage is that sometimes there are spaces we could be using that we haven't even thought about. Over-the-door organizers make the most of the space immediately behind a base cabinet door that we never even knew we were missing! Some are designed specifically for sink cabinets, with hooks for dishrags and baskets for sponges and cleaning supplies. You can theoretically use these organizers on any other kind of base cabinet, though. We recommend keeping the contents of the organizers consistent with whatever else is in the cabinet – spices or pot lids, for example, would best go in the over-the-door rack on the cabinet with the pots and pans inside.
Once you've got the space under your sink organized, you can start thinking about other places in your kitchen, too. This pull-out spice rack provides a brilliant way to store your spices while taking up minimal space. Also check out this clever plate rack and wine rack if you're looking to take your kitchen organization to the next level!
Nelson Cabinetry
Nelson Cabinetry is an online distributor of high quality kitchen and bathroom cabinetry. We pride ourselves in delivering a high quality product via an easy to use, convenient website. Placing your cabinet order has never been easier and you can do so from the comfort of your home, office or job site.
Evan Nelson is an interior designer who believes that your home should reflect your unique style and personality. He specializes in creating custom spaces that are both beautiful and functional.