Convincing Tagline
Best White and Gray RTA Cabinets in the Business
If you want designers to design your kitchen for you or to save money on your purchase, click here
What Is a Mid Century Modern Kitchen?
By:
|
Last updated: June 13, 2022
You may have heard the term "mid century modern" (MCM) floating around recently. What exactly does it mean? How can something be mid-century and modern at the same time? Let's begin with a quick overview of this style before then considering what a mid-century modern kitchen looks like.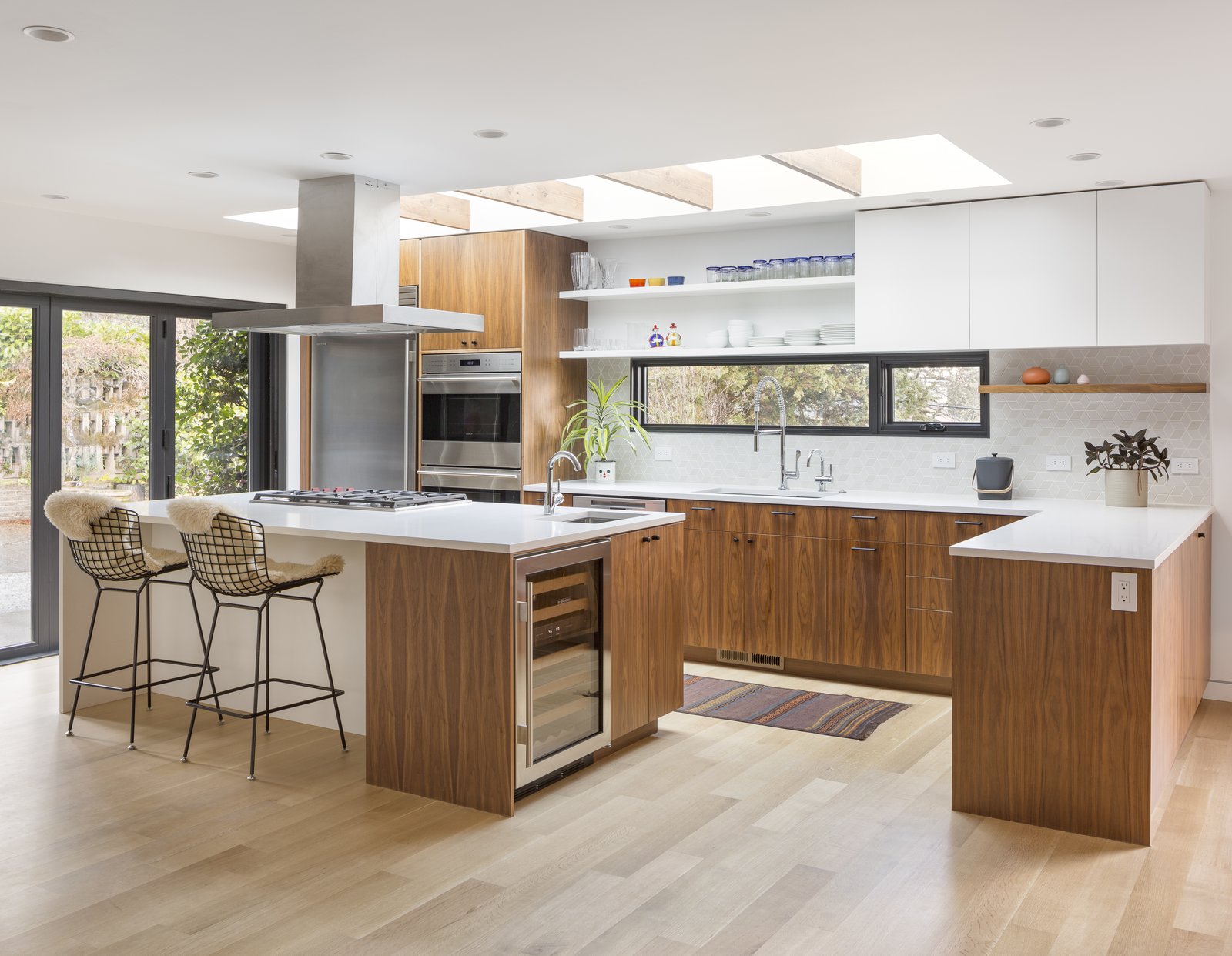 Simply put, mid-century modern refers to a style that was considered to be modern in the mid-20th century. In architecture, this style was pioneered by Frank Lloyd Wright, whose designs are characterized by their long, clean lines and minimal decoration. With more Americans spending time outside after the end of World War II, this aesthetic also emphasized natural elements and tended to incorporate tall windows with views of the greenery outside.
In keeping with the architectural movement's attention to the outside world, mid-century modern interior design often included, in contrast to the sharp lines of the buildings, more organic curves in furniture shapes. This contrast was also heightened in the use of materials, with natural wood used together alongside plastic in bright, very unnatural colors. In addition, cheerful and futuristic features like star-shaped chandeliers or globe pendant lights are characteristic of this style.
What's particularly intriguing about mid-century modern is that it is, for us in 2022, both vintage and futuristic at the same time. It's a little bit rustic cabin, a little bit spaceship. Added to that is that from our standpoint it's also retro, meaning that there are different interpretations of a style movement that existed more than seven decades ago. Originally, mid-century modern kitchen floors tended to be made of natural materials like slate or wood. Today, there are other materials that mimic this look but at a lower cost.
See how our designers can
create

your Dream Kitchen
Get a free 2D layout
Design & layout with as many revisions until it's perfect!
3D rendering
High quality, realistic 3D rendering of project within 24 hours!
Itemized quote
Quotes are detailed, transparent, and come with 15 day Price Gurantee!
Professional Grade Design
Professionalism and quality so good, 15,000+ families have said YES!
BOOK A CALL
Mid-century modern cabinets also work with these contrasting natural and futuristic elements. They are often made of wood for the "natural" element, though there are also mid-century modern kitchens with traditional white Shaker cabinets that have bold silver handles or minimalist pulls, like these. Other examples of mid-century modern kitchens feature cabinets that are painted in cheerful colors like Easter egg green, lemon yellow, or powder blue.
If you're considering a mid-century modern kitchen yourself, the cabinets are a great place to start. A cabinet that is marketed as MCM could be pretty expensive, but you could always get white cabinets and add some retro flair with chrome hardware. There are plenty of examples online of white cabinetry combined with bold laminate countertops for a quintessential mid-century modern look. Additionally, you could make a DIY project of painting white cabinets a pastel color. We have an article here about how to paint your cabinets, which is a lot easier than you might think.
MCM kitchens are big on innovation and appliances. When people think of an MCM kitchen, usually what they first imagine are refrigerators with sweeping lines and cheerful colors. These can be hard to come by, but you can certainly add a refrigerator panel and a dishwasher panel and paint them yourself to match the cabinetry. In addition, a lazy susan adds just the right amount of whimsical convenience.
In conclusion, MCM is a style that is defined by playful contrasts between natural and futuristic elements: wood and plastic, straight and curved lines, neutral and bold colors. If you're designing an MCM kitchen, give our online 3d design tool a try and see how our cabinets can help you customize your own unique kitchen design.
Nelson Cabinetry
Nelson Cabinetry is an online distributor of high quality kitchen and bathroom cabinetry. We pride ourselves in delivering a high quality product via an easy to use, convenient website. Placing your cabinet order has never been easier and you can do so from the comfort of your home, office or job site.
Evan Nelson is an interior designer who believes that your home should reflect your unique style and personality. He specializes in creating custom spaces that are both beautiful and functional.