Convincing Tagline
Best White and Gray RTA Cabinets in the Business
If you want designers to design your kitchen for you or to save money on your purchase, click here
Wall Colors That Go Perfectly With White Kitchen Cabinets
By:
|
Last updated: July 25, 2022
Exploring the color palette should be an important part of your kitchen remodeling journey. You have to ask yourself what kind of style you are going for. Do you want your kitchen to be in contrasting or coordinating colors? There are so many great options, especially if you decided to go with white kitchen cabinets.
We love this white kitchen with contrasting details
Selecting the right paint color for the walls that will look perfect with your white cabinetry can be challenging. But don't worry, we are here to help you and recommend some amazing color combinations!
Amazing Benefit of White Kitchen Cabinets
What makes the white kitchen cabinets a perfect choice is their versatility. White cabinets offer a perfectly bright, neutral canvas for designing your kitchen in any desired style. Nelson Cabinetry offers amazing white shaker cabinets that will make your dream kitchen a reality!
White on White
White is the most compatible color to be paired with white kitchen cabinets. If you're going for a clean or minimalistic look, white on white is a perfect choice. You should experiment with different shades, for example, bright and bright white, bright and warm white, or bright and cool white. This is a perfect choice for smaller kitchens as it will create an illusion of a bigger space.
See how our designers can
create

your Dream Kitchen
Get a free 2D layout
Design & layout with as many revisions until it's perfect!
3D rendering
High quality, realistic 3D rendering of project within 24 hours!
Itemized quote
Quotes are detailed, transparent, and come with 15 day Price Gurantee!
Professional Grade Design
Professionalism and quality so good, 15,000+ families have said YES!
BOOK A CALL
Contrasting Colors
Contrasting colors appear from the opposite side of one another on the color pallet and they can add a unique touch to your kitchen. They can make your white cabinets pop by adding the contrasting and highlighting effect.

Black and white create a sense of luxury
Source: Pinterest
Obviously, the most contrasting color is black. It creates a feeling of luxury and adds depth to the kitchen. However, black can be too dark for most people, but there are other contrasting options to consider. Dark blue gives that cooling, deep and stunningly elegant look. Different shades of brown can create a cozy atmosphere with soft characteristics.
Coordinating Colors
Coordinating colors are great if you want to harmonize your kitchen's overall color palette. Something that we love is combining white and gray, as gray looks beautiful with white cabinets and is a color choice that is both timeless and trendy. If you want to keep it clean and minimal, but white on white is too bright for you, light gray walls are a perfect option.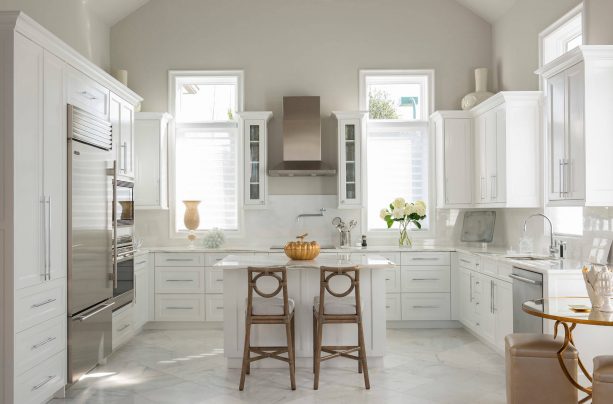 White cabinets with greige walls
Source: Pinterest
You can also spice it up with some beige, taupe or steel blue details. Greige belongs to the gray category, but it has a strong beige undertone. By adding beige or greige, your kitchen will get a soft, warm look.
Colorful Options
Maybe you like colorful rooms more than neutral or contrasting ones. Luckily, there are so many amazing colors that go well with white cabinetry. And if you can't decide on one color, what's stopping you from combining a few of them? Yellow is a cheerful color and it creates a warm, sunny vibe.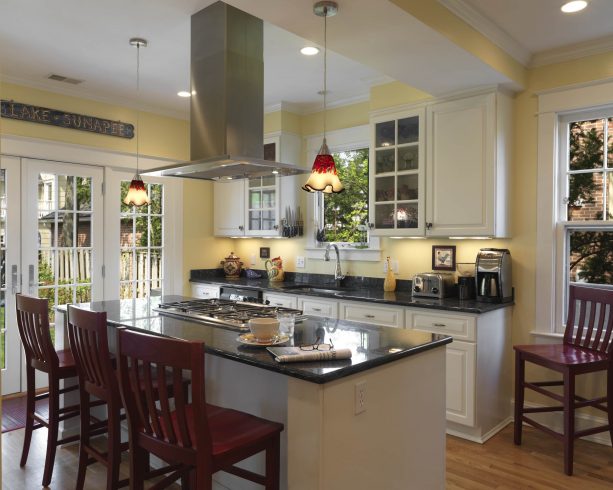 The sunshine that never goes away
Source: Pinterest
Pink represents love and happiness and adds personality without being too obvious about it. If you're into cottagecore style, consider painting your walls green. Red may not be a kitchen favorite for most people, but white cabinets will get a sparkly and classy look when combined with red. It can also be used to reduce the monotony of warm and bright colors.
Final Thoughts
It's important that your color choice reflects your personal style. Ultimately, there is really no wrong choice when it comes to pairing wall colors with white cabinetry, as white goes great with everything. One of the biggest advantages of white cabinets is their versatility, making them a perfect pair with almost any color. Be creative, this is your time to shine!
Nelson Cabinetry
Nelson Cabinetry is an online distributor of high quality kitchen and bathroom cabinetry. We pride ourselves in delivering a high quality product via an easy to use, convenient website. Placing your cabinet order has never been easier and you can do so from the comfort of your home, office or job site.
Evan Nelson is an interior designer who believes that your home should reflect your unique style and personality. He specializes in creating custom spaces that are both beautiful and functional.