Convincing Tagline
Best White and Gray RTA Cabinets in the Business
If you want designers to design your kitchen for you or to save money on your purchase, click here
Top 13 Kitchen Design Trends for 2023
By:
|
Last updated: November 13, 2022
It's still the start of a new decade, and it's a great time to think about new beginnings in different facets of your life. People are always looking for the latest trends when it comes to their homes, and the kitchen is no exception. So, why not start with your kitchen? It's where so many of us start the day with a cup of coffee or our morning cereal, setting the tone for the rest of our day. Set the tone for the decade to come with a welcoming kitchen that is just as functional as it is comfortable.
If you're looking to give your kitchen a fresh update for 2023, take a look at some of the top design trends that are bound to be popular. From minimalist designs to maximized storage, there's something for everyone on this list. So whether you're planning a full renovation or want to switch up a few things, these trends will help you get started to give your kitchen a new look!
1. Clad and Hidden Appliances
This kitchen appliance trend is all about hiding away your appliances so that they don't break up the clean lines of your kitchen. This can be done in a number of ways, but some popular methods include installing cabinets that match the fronts of your appliances or using panels to disguise them. You can create even more of a sleek atmosphere by matching all of the fronts of your appliances to your cabinets: a dishwasher and refrigerator clad in classic light wood, for example, make for clean lines and cheerful visual appeal.
Check out our panels to see how one simple change can transform the look of your kitchen.
2. Showcasing the Sink
Sinks generally don't get as much as attention as other features of the kitchen. But a farmhouse sink can add a homey, timeless feel that quickly becomes the star of the show. Best of all, the deeper basin makes washing larger pots and pans a breeze. If you're not into the farmhouse style, there are plenty of other sink trends to choose from to make a statement. Try a sleek vessel sink in stainless steel or concrete for a modern look. You can make a real statement with a corner apron sink looking out a window: washing dishes has never been so idyllic!
3. Built-In Pantries and Dry Bars
Gone are the days of the walk-in pantry. Now, it's all about built-in storage that makes the most of your space. Whether you have a small nook or an entire spare room, there are plenty of ways to utilize every square inch. Built-in pantries and dry bars are a great way to do this, as they allow you to store everything from non-perishables to glassware in one place. If you're short on space, try a rolling ladder: it's both stylish and practical.
Standing pantries are great solutions for those who don't have an extra room for a pantry – or who do have one but could always stand a little more storage. They allow for an easy glimpse of what provisions are on hand and, by keeping them all together, ensure that the rest of the kitchen stays tidy and organized.
See how our designers can
create

your Dream Kitchen
Get a free 2D layout
Design & layout with as many revisions until it's perfect!
3D rendering
High quality, realistic 3D rendering of project within 24 hours!
Itemized quote
Quotes are detailed, transparent, and come with 15 day Price Gurantee!
Professional Grade Design
Professionalism and quality so good, 15,000+ families have said YES!
BOOK A CALL
4. Dark Floors Engineered Wood or Luxury Vinyl Plank (LVP)
Light floors are out and dark floors are in! This kitchen trend is perfect for those who want to create a cozy atmosphere in their kitchen. Dark floors can also help to disguise dirt and stains, which is ideal if you have pets or small children. If you're worried about your dark floors making your kitchen look too small, try using light-colored cabinets and countertops to brighten things up. You can also add a pop of color with your appliances or backsplash.
If you have light-colored cabinets, hardwood floors with a rich, dark stain provide a striking visual contrast. Crisp white or gray cabinetry, combined with bright lighting, offset the expansive feel of darker kitchen floors.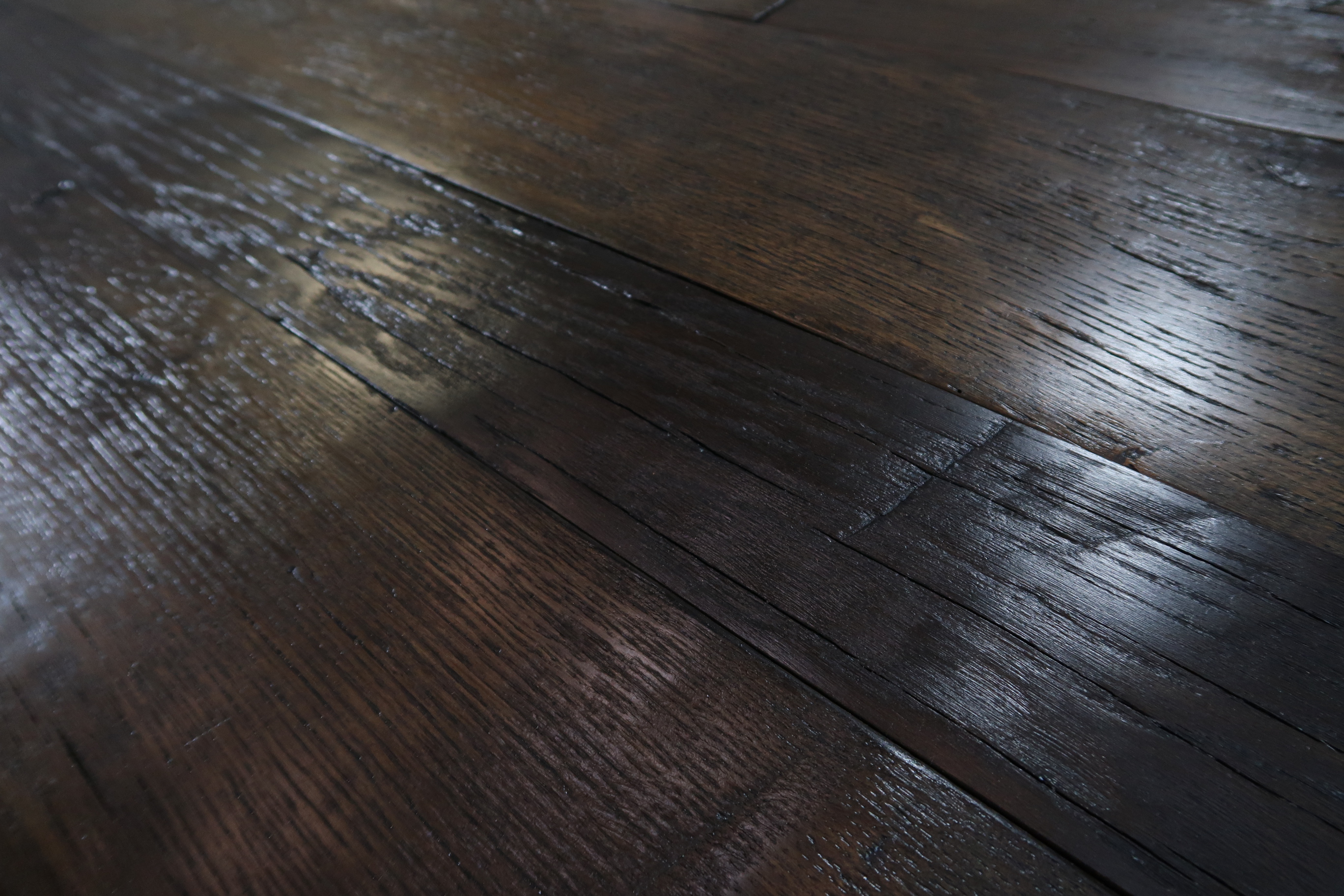 Engineered wood vs Luxury vinyl plank? This is a debate that has been going on for some time and, quite frankly, there is no clear winner. It depends on your needs and preferences as to which one is best for you. That said, both options are excellent choices in 2023.
Engineered wood is a popular choice because it's more affordable than solid hardwood and offers more stability, making it ideal for homes with high humidity or temperature fluctuations. Luxury vinyl plank, on the other hand, is a newer product that offers the same look and feel of hardwood but is more durable and easier to install. It's also waterproof, making it a good choice for kitchens that see a lot of spills.
So, what's the verdict? If you're looking for a classic look that will last for decades, go with engineered wood. If you want something that's easy to install and maintain, luxury vinyl plank is the way to go.
5. Marble Countertops
Marble countertops are having a moment, and it's easy to see why. Clean, classy, and luxurious: what's not to like about marble countertops? They add a luxurious feel to any kitchen and can be used in a variety of ways. You can use them as an accent to your backsplash or as the main event on your counters. More and more people are investing in these gorgeous countertops, and it's easy to see why. They're the last word in elegance, with marble being the go-to material for countertops this decade. If you're worried about marble staining, try using it on a smaller scale, such as in a backsplash. You can also choose a different material for your countertops, such as quartz or granite.
6. Double Ovens
Double ovens are a must-have for those who love to cook. They allow you to bake multiple dishes at once, which is perfect for large gatherings or holiday meals. If you don't have the space for two full-sized ovens, consider a smaller second oven that can be used for side dishes or desserts.
The main advantage of having a cooktop and wall oven rather than a range is that it's easier to separate tasks. If you're cooking something on a range, it can be a challenge to get something out of the oven simultaneously. Another advantage to a wall oven is that they're higher than when they're under the range. Make the most out of your new addition by installing them in the double oven cabinets that we feature in both white and gray.
7. Cabinetry as Furniture
Gone are the days when cabinetry was solely functional. Nowadays, it's all about form and function. Cabinetry as furniture is a popular kitchen trend that allows you to add storage without sacrificing style. This kitchen cabinet trend is perfect for those who want their kitchens to feel more like living spaces. You can use your cabinets to store everything from dishes to books.
If you're looking for a way to add personality to your kitchen, try using two-tone cabinets. This kitchen trend allows you to mix and match colors, which is perfect if you can't decide on just one. You can also use two-tone cabinets to create a unique focal point in your kitchen. For example, you could use one color for your upper cabinets and another for your lower cabinets.
According to Forbes Magazine's forecast for design trends in 2020, cabinets are the main visual elements of kitchen design as appliances become increasingly hidden. This means that cabinets are more in tune with the needs of users. At Nelson Cabinetry, we offer pull out shelves for smarter storage as well as blind corner cabinet systems and lazy susan corner cabinets so you can integrate form with function, making the most out of your kitchen's most important feature: the cabinets.
8. Smarter Appliances
Smart appliances are the wave of the future, and they're becoming more and more popular in kitchens. These appliances allow you to control them with your voice, phone, or tablet. You can use smart appliances to do everything from start the coffee pot to preheat the oven.
If you're looking for appliances that are both stylish and functional, consider investing in a smart fridge. These fridges come with built-in cameras so you can see what's inside without having to open the door. You can also use the camera to take pictures of your food so you can create a grocery list.
9. Hidden Storage
Hidden storage is a must-have in any kitchen. It allows you to keep your countertops clear and makes it easy to find what you're looking for. There are a variety of hidden storage solutions, such as under-cabinet drawers and spice racks. You can also use your appliances to create hidden storage. For example, many refrigerators come with built-in ice makers that can be used to store ice cream or frozen meals.
One of the best hidden storage solutions is a pot rack. A pot rack is a great way to free up cabinet space and keep your pots and pans within easy reach. Pot racks come in a variety of styles, so you can find one that fits your kitchen's décor.
10. Decorative Backsplashes
A backsplash is a great way to add personality to your kitchen. You can use it to experiment with color and pattern without making a permanent commitment. There are a variety of backsplash materials to choose from, such as tile, glass, and stainless steel.
If you're looking for a backsplash that's both stylish and functional, consider using a chalkboard backsplash. A chalkboard backsplash is perfect for jotting down grocery lists or leaving messages for your family. You can also use it to draw pictures or write recipes.
11. Green Kitchens
Green kitchens are becoming more popular as people become more aware of the environment. There are a number of ways to make your kitchen more green, such as using energy-efficient appliances and recycled materials. You can also use green cleaning products to keep your kitchen clean and safe.
If you're looking for ways to reduce your carbon footprint, consider investing in solar panels. Solar panels can be used to power your home, and they're a great way to save money on your energy bill. You can also use solar panels to heat water for your kitchen.
12. Outdoor Kitchens
Outdoor kitchens are perfect for entertaining guests. They allow you to move the party outside and enjoy the beautiful weather. Outdoor kitchens come in a variety of styles, so you can find one that fits your needs.
If you're planning on having an outdoor kitchen, make sure you have a plan for covering it. You'll need to protect your kitchen from the elements, so you'll need to invest in a good cover. You can also use an outdoor kitchen as an extension of your indoor kitchen. This way, you can still cook indoors if the weather isn't cooperating.
13. It's All in the Details
While getting the big picture is important, the smaller details like hardware, kitchen cabinet fillers, and molding make all the difference between a kitchen that's just satisfactory and a kitchen that's a real masterpiece. At Nelson Cabinetry, we've got you covered with door handles, cabinet crown molding, and even a touch-up kit for easy improvements down the line.
When it comes to kitchen design, there are endless possibilities. It's important to think about what you want from your kitchen and then find a style that fits your needs. Keep these kitchen design trends in mind as you plan your dream kitchen.
Nelson Cabinetry
Nelson Cabinetry is an online distributor of high quality kitchen and bathroom cabinetry. We pride ourselves in delivering a high quality product via an easy to use, convenient website. Placing your cabinet order has never been easier and you can do so from the comfort of your home, office or job site.
Nelson Cabinetry is an online distributor of high quality kitchen and bathroom cabinetry. We pride ourselves in delivering a high quality product via an easy to use, convenient website. Placing your cabinet order has never been easier and you can do so from the comfort of your home, office or job site.