Convincing Tagline
Best White and Gray RTA Cabinets in the Business
If you want designers to design your kitchen for you or to save money on your purchase, click here
Top 12 Cabinet Organizers for 2022
By:
|
Last updated: June 7, 2022
We've all been there. We start with the best of intentions when we move into a new place or complete a fresh remodel. We haven't put anything in the drawers or cabinets yet, and they have all the promise and possibility of a blank canvas. We start by neatly organizing, but before long life gets in the way and what was once a well-ordered shelf turns into a chaotic cave! This time, stop clutter before it starts by investing in these 12 genius organizational tools for your cabinets.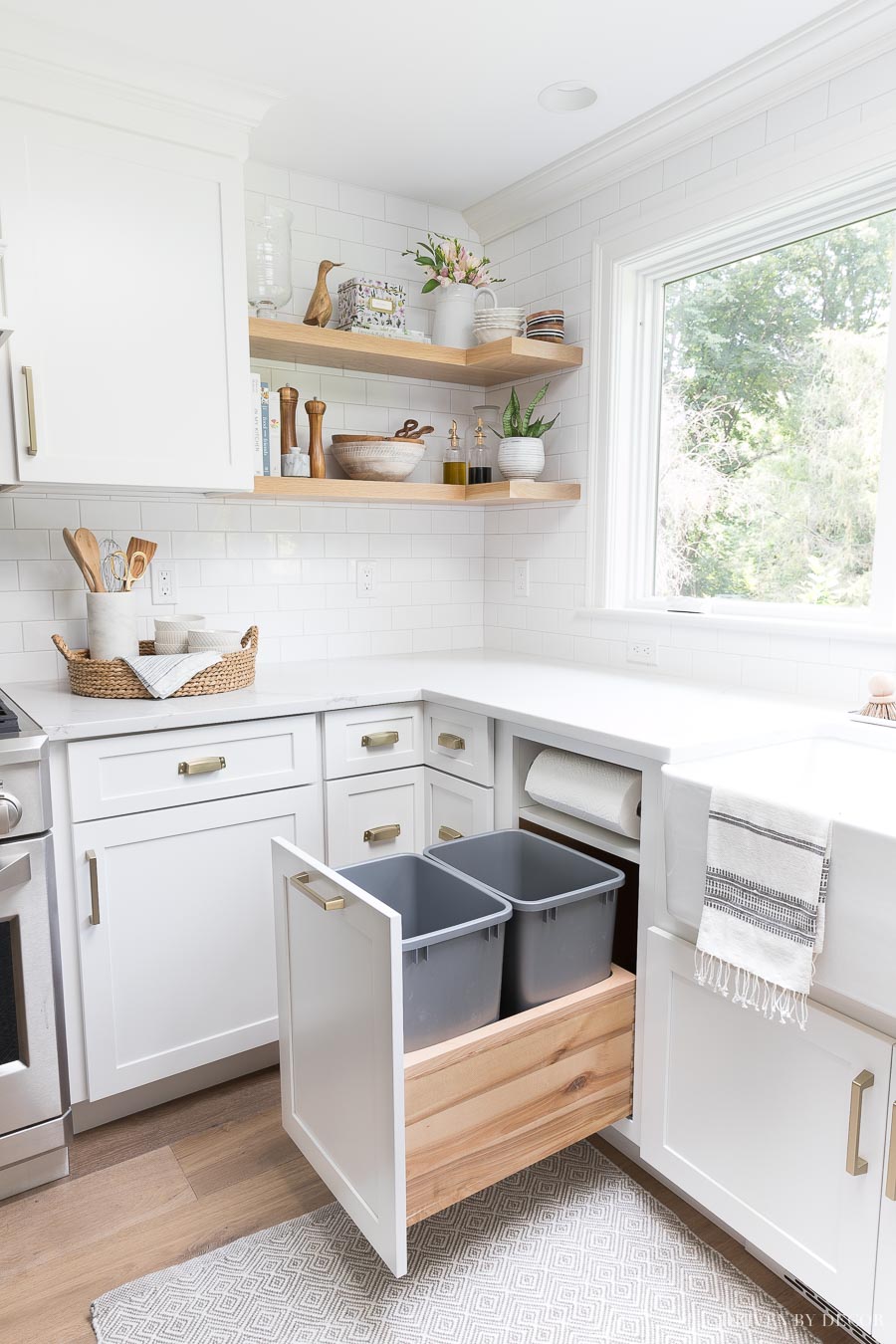 Waste Basket Cabinet
This pull-out waste basket unit is a major game changer. No need to find the remotest corner of the kitchen for your trash can – now it will have a designated space stored out of sight while still easy to access while you are cooking and cleaning.
Pots and Pans Organizer
A pots and pans organizer will help you to conquer what really makes kitchen cabinets so difficult to manage: vertical space. Generally, this type of organizer will have several levels so you can stack your pots and pans easily and efficiently.
Pull-Out Drawer
Have you ever found yourself kneeling on the kitchen floor, fumbling around in the back of a base cabinet trying to locate the lid to your favorite pan? A pull-out drawer will give you a quick and easy overview of all the contents of your cabinets so everything is easily accessible.
See how our designers can
create

your Dream Kitchen
Get a free 2D layout
Design & layout with as many revisions until it's perfect!
3D rendering
High quality, realistic 3D rendering of project within 24 hours!
Itemized quote
Quotes are detailed, transparent, and come with 15 day Price Gurantee!
Professional Grade Design
Professionalism and quality so good, 15,000+ families have said YES!
BOOK A CALL
Lazy Susan
The Lazy Susan, like the pull-out drawer, makes the most of the back recesses of cabinets by making them easily visible — but the Lazy Susan uses a spinning disk instead of a drawer. Did you know that the Lazy Susan actually started as a serving solution before being integrated into kitchen cabinetry? See The Lazy Susan in Cabinetry: An Ingenious American Invention for more on the fascinating history of this organizational solution. Lazy Susans are useful all over the kitchen, and there are even models that are built right into the base cabinets.
Under-Shelf Storage Drawer
Sometimes it seems like it's just not possible to have too many drawers. In the kitchen, there are all kinds of items that need their designated spot, from receipts and notes to plastic bags and elastic bands. While under-shelf storage drawers don't take up very much room, the organizational potential they have is tremendous.
Pull-Out Spice Rack
If you're going for a sleek, streamlined look in your kitchen, a pull-out spice rack is definitely for you. Spice jars often come in different sizes, making it difficult to always arrange them tidily. This clever pull-out spice rack provides a solution for organizing all your spices without any fuss.
Door Racks
Racks of all shapes and sizes are available to be fitted onto your cabinet or pantry drawer. The smallest of them all are likely the ones designed to hold spices. Often, that space just behind the cabinet or pantry door isn't being used for anything, so these racks are especially useful for those who are short on space.
Stick-On Organizer Bins
You can attach these small compartments to the insides of your cabinets by using adhesive. They are similar to door racks except that you can arrange them individually, giving you a little more flexibility than with the door racks. They're great for spices as well as condiments and dried goods.
Pot Lid Holder
Everyone really ought to have a pot lid holder in their home. There are over-the-door models as well as standalone versions that allow you to stack them inside the cabinet itself. This frees up room within the pots themselves to stack other pots, or to keep the lids organized all together if you hang your pots from a rack.
Over the Door Paper Towel Holder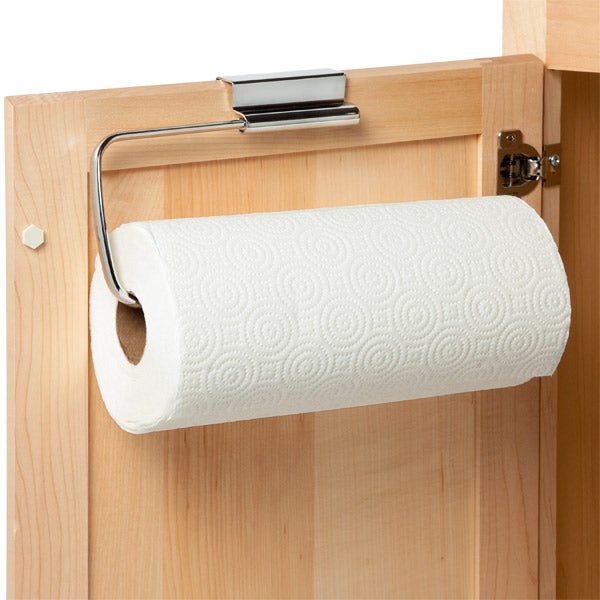 If you don't have room on the counter or wall for your paper towels, just install one of these holders on the inside of your cabinets and – voilà! – you have the perfect spot for them. An extra bonus is that it keeps paper towels safe from playful pets.
Tension Rods for Vertical Divisions
You can use short tension rods in your wall or base cabinets to create vertical compartments for larger items that might otherwise just accumulate in a disorderly pile: cookie sheets, muffin tins, cutting boards, and baking mats.
Cabinet Side Rails
Most kitchen islands come with a side rail for miscellaneous cooking accoutrements like oven mitts, cheese graters, and strainers. Your cabinet might have an empty wall – why not get it to work for you by installing a rail or rack that you can use to arrange all your kitchen miscellany in a neat row?
Final Thoughts
Let's face it, our kitchens are typically the busiest rooms in any home. It can be hard to find time for cleaning out all those cabinets, but luckily there are some amazing cabinet organizers that make this task easier! If you need any help – contact us and we can provide professional guidance on how to use the space efficiently, as well as all of the latest trends in kitchen decorating!
Nelson Cabinetry
Nelson Cabinetry is an online distributor of high quality kitchen and bathroom cabinetry. We pride ourselves in delivering a high quality product via an easy to use, convenient website. Placing your cabinet order has never been easier and you can do so from the comfort of your home, office or job site.
Evan Nelson is an interior designer who believes that your home should reflect your unique style and personality. He specializes in creating custom spaces that are both beautiful and functional.