Convincing Tagline
Best White and Gray RTA Cabinets in the Business
If you want designers to design your kitchen for you or to save money on your purchase, click here
Tips on Choosing Perfect Countertops With White Kitchen Cabinets
By:
|
Last updated: October 12, 2022
Countertops and cabinets are equally important parts of your kitchen, but they can also be an expensive investment, so you have to select them carefully. Certain colors and textures are made to be together to match different styles. The good thing is that white cabinets are extremely versatile and offer many different styles to choose from.
Different types of countertops can be paired with white cabinets to create a specific aesthetic. Today, we bring you some of the most popular ways to pair your white kitchen cabinets with countertops.
Some Important Things to Consider
One of the biggest benefits of white kitchen cabinets is that they offer a versatile style that can be combined with almost anything. They give you a perfect opportunity to design your kitchen in a style that will fit your personal needs. If you need more inspiration, you should definitely check out the Nelson Cabinetry white shaker collection. Once you choose the right cabinets, a decision on the countertops will be much easier!
Before deciding on countertops, there are a few important things to consider. You have to decide on your overall kitchen design theme and select a style and a color palette that will fit it perfectly. Finalize your budget options and choose a countertop material that best suits your personal use and needs.
Choosing the Right Material
Choosing the material that fits your style and budget options is as important as the color of your countertops. There are several different countertop materials for you to choose from, and each come with their pros and cons.
Quartz is an increasingly popular choice for countertops. It is a durable material and perfect for those who like to do food preparation directly on their countertops. This material is particularly common in more traditional kitchens.
Granite countertops were once considered a luxury, but they've become more affordable over the years. Granite countertops are durable and heat resistant and come in many different colors.
Wood countertops are heat resistant and can be very stylish when combined with white kitchen cabinets. However, wood countertops require regular maintenance to prevent warping and cracking, and they may show knife marks over time so it's not advisable to prepare food directly on them. It is important to make sure this wood coordinates with the other woods in the home.
Marble countertops are a high-end option that can look elegant and striking in many kitchens. However, marble is not the most durable material and shows knife scars, so it's important to keep that in mind.
Acrylic countertops are another great choice for a smooth, seamless kitchen. They are non-porous, meaning that bacteria, germs, and odors are unable to penetrate through their hard surface. Another advantage is that acrylic countertops are generally more affordable. Be careful when preparing food, as polyester acrylic countertops are sensitive to hot temperatures and leave burn marks from hot pans, and solid surface ones can be easier to scratch.
See how our designers can
create

your Dream Kitchen
Get a free 2D layout
Design & layout with as many revisions until it's perfect!
3D rendering
High quality, realistic 3D rendering of project within 24 hours!
Itemized quote
Quotes are detailed, transparent, and come with 15 day Price Gurantee!
Professional Grade Design
Professionalism and quality so good, 15,000+ families have said YES!
BOOK A CALL
Choose the Color Palette
Dark Countertops
White is always a great pair with darker colors as it creates an edgy, contrasting effect. Such contrast works best for modern and contemporary kitchens, but it can also be incorporated into transitional kitchens. If you have a smaller kitchen, it's advisable to avoid contrasting colors as they can make it feel more cramped.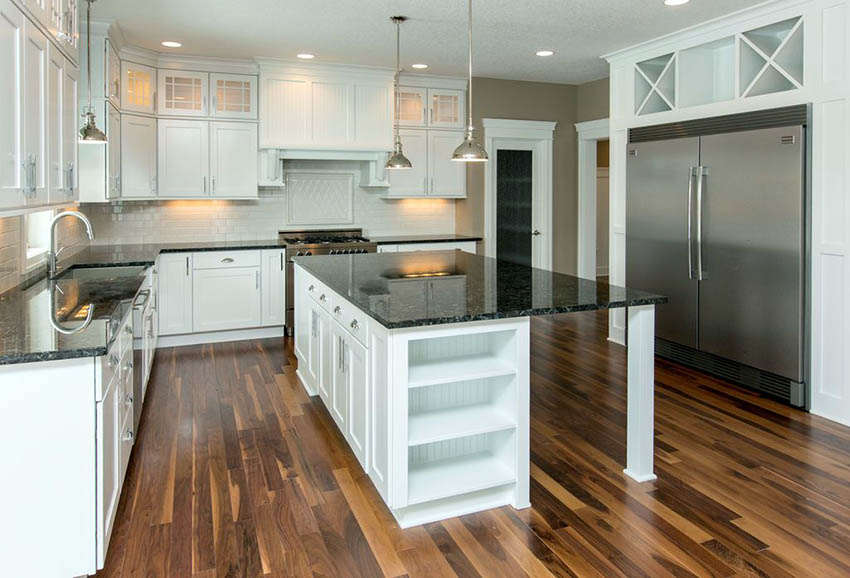 Black granite countertops and white shaker cabinets are a powerful combination
Source: Pinterest
Bright and Neutral Countertops
Simplicity can often be the best design inspiration. Cooler, lighter colors can give the kitchen a fresh and clean appearance. Going all white creates elegance and it's also a perfect choice for smaller kitchens as it will make the space appear bigger. Gray countertops look stylish and are often used in modern and contemporary kitchen designs. If you're going for this option, it is advisable to keep a neutral theme throughout the home rather than in just one area.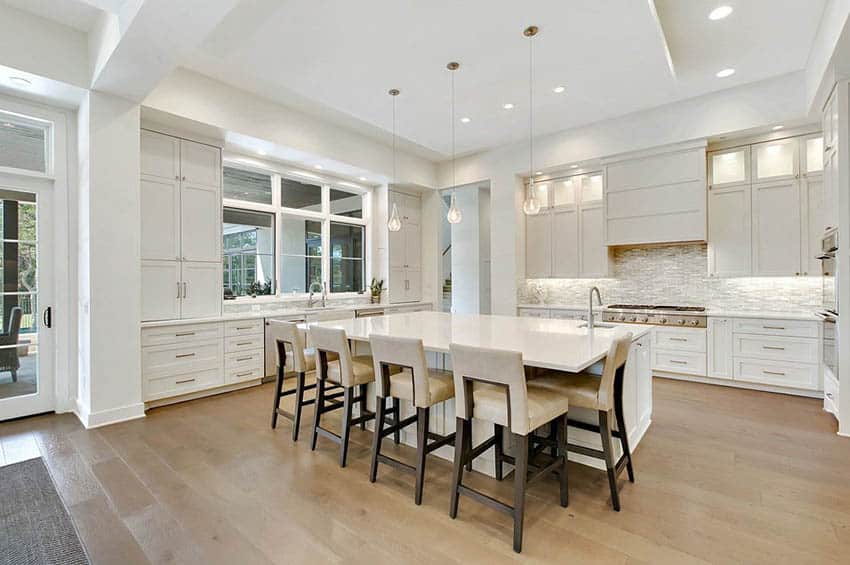 White quartz countertop with white shaker cabinets for an elegant design
Source: Pinterest
Final Thoughts
When choosing the perfect countertops to go with your white kitchen cabinets, there are some things to keep in mind. Choose the right material for your style and budget. The most popular countertop materials are quartz, marble, granite, acrylic and wood. Decide on your overall kitchen design theme and choose a matching color. You can go with darker colors for an edgy, modern style, or with brighter colors for a clean, elegant style. White kitchen cabinets offer versatility so it's hard to make a bad choice.
Nelson Cabinetry
Nelson Cabinetry is an online distributor of high quality kitchen and bathroom cabinetry. We pride ourselves in delivering a high quality product via an easy to use, convenient website. Placing your cabinet order has never been easier and you can do so from the comfort of your home, office or job site.
Evan Nelson is an interior designer who believes that your home should reflect your unique style and personality. He specializes in creating custom spaces that are both beautiful and functional.