Convincing Tagline
Best White and Gray RTA Cabinets in the Business
If you want designers to design your kitchen for you or to save money on your purchase, click here
What is the Most Common House Renovation Project? Adding Value and Style
By:
|
Last updated: December 27, 2022
There are many home renovations that you can do to improve your home. However, some of them are more popular than others. In this blog post, we will discuss the most common house renovation: adding value and style. Many homeowners choose to renovate their homes in order to increase the value of their property. Others want to make their home look nicer and more stylish. No matter what your reason is, there are many different ways that you can add value and style to your home!
Interior Painting
Interior painting is a popular home renovation project for many homeowners looking to spruce up their living spaces. A fresh coat of paint can have a powerful impact on any room, breating new life into it while adding to its aesthetic and appeal. As such, interior painting is not only practical but also stylish, making it a great way to transform your environment. Not to mention the fact that it's a fairly cost effective option compared to more disruptive renovations like flooring or electrical work!
Bathroom Remodel
When it comes to house renovations, particularly Do-It-Yourself projects, bathrooms top the list of most popular rooms to remodel. It seems like everyone is clamoring to upgrade the cabinets, fixtures, and design in their bathroom – it's one of the best things you can do to increase your home value and make it distinctly yours.
Plus, bath design isn't only about practicality anymore; we now live in a wonderful time full of trendy patterns for shower curtains and chic finishes for faucets! And let's face it: with such an inexpensive DIY project (depending on materials used), what better place to cut our teeth than with one of the smallest, most private parts of our home? Everyone loves a good bathroom facelift now and then.
Installing Smart Home Device
Smart home devices let homeowners experience tech-enabled comfort and convenience they couldn't before. Installing such devices is becoming a more common home remodeling project. By pairing advanced home automation technology with state-of-the-art appliance designs, modern homeowners are taking their remodeling project to the next level with installing smart home devices tailored to their lifestyle needs.
Whether it's setting optimal room temperatures at all times or turning off the lights when leaving the house, "smart homes" have certainly come a long way in providing airtight security and up-to-the-second convenience.
See how our designers can
create

your Dream Kitchen
Get a free 2D layout
Design & layout with as many revisions until it's perfect!
3D rendering
High quality, realistic 3D rendering of project within 24 hours!
Itemized quote
Quotes are detailed, transparent, and come with 15 day Price Gurantee!
Professional Grade Design
Professionalism and quality so good, 15,000+ families have said YES!
BOOK A CALL
Flooring
Flooring is one of the most common renovations to a house because it's easily visible and can be transformed relatively quickly. If you've ever taken a peek at someone else's living room while they're away, chances are the floor caught your eye first. From carpet to playful patterns, old wooden floors to laminate, there's no shortage of options when it comes to giving your flooring a makeover. Doing so not only boosts the appearance of your home but can also add value in the long run.
Landscaping
Landscaping is a popular renovation choice for many homeowners, as it offers a wide range of possibilities when it comes to transforming the landscape of residential spaces. An outdoor space that's been designed with landscaping can add appeal and aesthetic value to any home, making it more inviting and attractive in the eyes of potential buyers. Plus, properly-crafted features like flower gardens, walkways and rock walls can also add an element of interest to your private garden while simultaneously increasing the value of your property.
Exterior Painting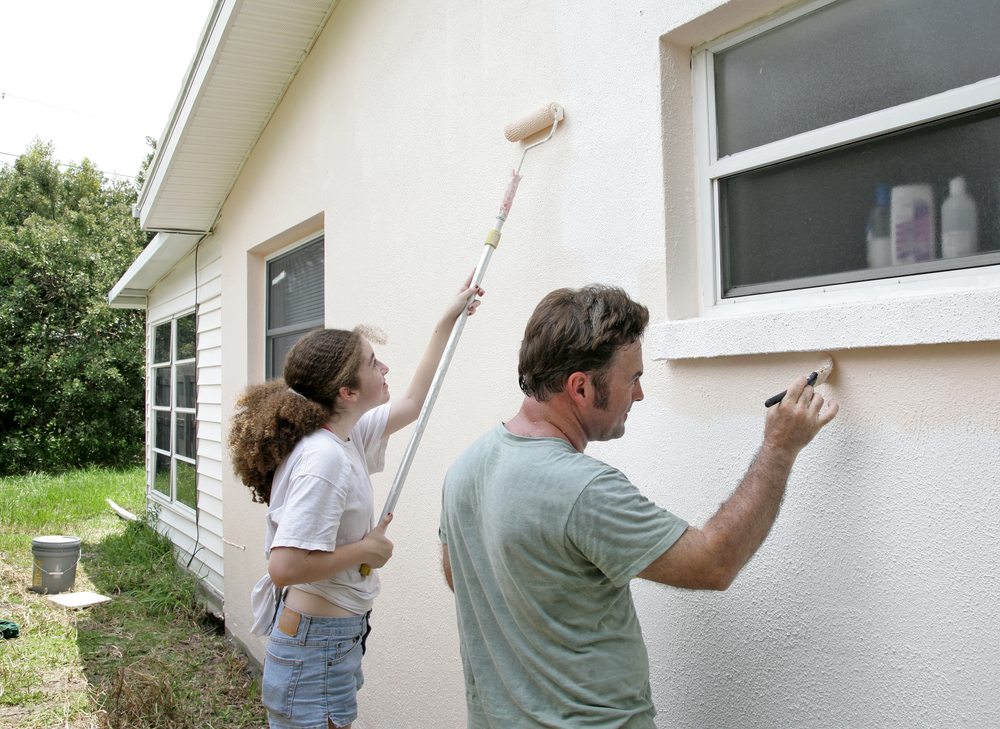 Exterior painting is one of the most iconic and popular DIY home renovation projects out there. From royal manors to humble cottages, it has the power to completely transform any house with a few simple brushstrokes! Whether you're looking to give your property an old-fashioned classic look or a modern vibe, exterior painting can provide the perfect backdrop for virtually any aesthetic. With a wide range of colors available and even more room for creativity, this project offers an affordable way to have your dream home in no time!
Kitchen
Give your kitchen the attention it deserves! A kitchen renovation is one of the most common home projects, and who can blame anyone for wanting a modern, updated cooking space? Not only does an expertly designed and executed kitchen make meal times more enjoyable, but also increases the value of your home. With a few changes, you could have dinner parties lasting until dawn and make it look like you barely broke a sweat in the process. Who needs five-star restaurants when you can have five-star kitchens?
Fencing
A fence isn't just a decorative addition to your home – it's the edge of your kingdom, revealing the world who and what is beyond. Whether for safety or for privacy, it seems like a properly installed fence tops many homeowners' renovation wish list! Of course, there are so many fences from which to choose – you can pick anything from post-and-rail fencing to PVC-coated material in an endless number of colors and textures. When fully embraced by its owner, fencing can even be decorative; its installation offering not only another line of defense but an aesthetic touch as well.
New Roof
One of the most common home improvements? Replacing an existing roof! After all, those shingles do have a fairly lengthy shelf-life and the aging of your roof often runs in tandem with the age of your home. A new roof won't just keep the rain from dripping through cracks anymore, either–a properly installed set can help with energy efficiency as well as improve say aesthetics. Get out there and make sure you're covered… literally!
New Cabinets
When it comes to updating your home, new cabinets always seem to be the go-to. It's a classic choice for a reason; new cabinets can give a room an instant facelift and their elegant wood finishes are guaranteed to liven up any kitchen or bathroom.
Plus, if you choose wisely, they can also provide plenty of extra storage space – so there's no need to worry about where to hide these extra paper towels. It's also quite versatile – practically any type of cabinet will match with most existing fixtures in your home and when combined with modern lighting, you can create an entirely different atmosphere in minutes. So forget running out for that expensive set of decor; simply upgrade your existing cabinets and enjoy the results!
Final Thoughts
When it comes to house renovations, there are no shortage of options available. Whether you're looking to give your home a facelift or to make some sensible improvements for modern comforts, it pays to carefully consider all the possible solutions before making a final decision. Ultimately, the most common home renovation is and always will be painting walls and updating fixtures – whether that's with fresh new colors and materials or incorporating something with a more classic appeal. After all, nobody ever complained about their property looking too trim and tidy.
Nelson Cabinetry
Nelson Cabinetry is an online distributor of high quality kitchen and bathroom cabinetry. We pride ourselves in delivering a high quality product via an easy to use, convenient website. Placing your cabinet order has never been easier and you can do so from the comfort of your home, office or job site.
Evan Nelson is an interior designer who believes that your home should reflect your unique style and personality. He specializes in creating custom spaces that are both beautiful and functional.