Convincing Tagline
Best White and Gray RTA Cabinets in the Business
If you want designers to design your kitchen for you or to save money on your purchase, click here
Lowe's Kitchen Cabinet Alternatives
By:
|
Last updated: June 8, 2022
Lowe's offers three main brands of ready-to-assemble (RTA) cabinets: Valleywood Cabinetry, Cambridge, and Design House. There is also one item, a sideboard buffet, currently available at Lowe's from Goplus, a brand that is also available at Sears. While there is a large selection at Lowe's, many homeowners have turned away from this big box store because they appreciate the customer service they can get from cabinet specialists who have been in the business of kitchen cabinetry for decades.
At the time of writing this blog post (January 2022), the broadest range of RTA cabinets available at Lowe's is manufactured by Cambridge, which has a significantly higher price point than the other brands offered at Lowe's and can be even more than twice the cost of kitchen cabinets made by a family-owned specialist like Nelson Cabinetry. See for yourself with the comparison below for a breakdown of the price differences, which is based on the current prices and specs for one of the most standard base cabinet sizes.
Comparison of Lowe's Brands with Nelson Cabinetry
RTA base cabinet, white
Dimensions: 24″ W x 34.5″ H x 24″ D
It's important to note that these prices and details were all collected on January 4, 2022, and will likely change over time, though it can be expected that the major trends will remain consistent for at least a year or two to come.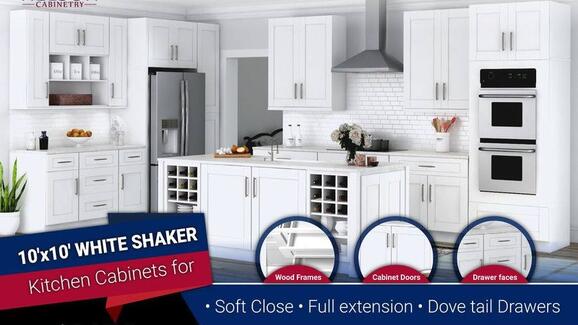 The price comparison is very clear, but it's also a good idea to get a little more in-depth about some of the other factors at play in the overall product comparison.
What's a lifetime warranty?
Nelson Cabinetry, in addition to offering the lowest cost for the product, also distinguishes itself by offering an unmatched warranty. While it guarantees its products for a lifetime, the Valleywood cabinet only has a 5-year limited warranty. That is clearly already less than the lifetime warranty offered by Nelson, though certainly better than the very short-term warranties from Design House and Cambridge. The lifetime warranty is designed with the intention that this will be the last kitchen you'll ever have to buy, and covers any defects in materials or workmanship as well as breakage under normal use. Cabinets are an investment, and a warranty that lasts a lifetime, rather than just a few months or years, shows you that the cabinets are designed to last.
See how our designers can
create

your Dream Kitchen
Get a free 2D layout
Design & layout with as many revisions until it's perfect!
3D rendering
High quality, realistic 3D rendering of project within 24 hours!
Itemized quote
Quotes are detailed, transparent, and come with 15 day Price Gurantee!
Professional Grade Design
Professionalism and quality so good, 15,000+ families have said YES!
BOOK A CALL
What about more specialized dimensions?
Before going into the range of products that are available, let's take a look at another price comparison, this time with a more specialized cabinet type: a lazy susan base cabinet. Again, Valleywood does pretty well in comparison to the other brands available at Lowe's, though it still trails behind Nelson.
Comparison of Lowe's Brands with Nelson Cabinetry
RTA base cabinet, white
Dimensions: 36″ W x 34.5″ H x 24″ D
The more and more specialized you get in your search for cabinets, the higher Valleywood's prices go up. If you are looking for an oven cabinet, for example, the difference in price is no longer just a matter of a few dollars, but enough money to practically buy another base cabinet!
Comparison of Lowe's Brands with Nelson Cabinetry
RTA oven cabinet, white
Dimensions: 33″ W x 84″ H x 24″ D
Conclusion
As evidenced by the price comparison above, another possibility you may run into is a lack of availability. The oven cabinet was not available from Design House or Cambridge in the same dimensions. Overall, this means it's essential to do a little research ahead of time and not get stuck overpaying for a more specialized part. The author's attempts to find a microwave cabinet on the Lowe's website were unsuccessful. Unfortunately, Lowe's website can be confusing and cumbersome, whereas Nelson's website is a breeze to navigate. And if you ever have any questions, you can always pick up the phone and call them at 832 998-6598, or write to them at info@nelsonkb.com. They'll be happy to help you make your kitchen design dreams come true.
Nelson Cabinetry
Nelson Cabinetry is an online distributor of high quality kitchen and bathroom cabinetry. We pride ourselves in delivering a high quality product via an easy to use, convenient website. Placing your cabinet order has never been easier and you can do so from the comfort of your home, office or job site.
Evan Nelson is an interior designer who believes that your home should reflect your unique style and personality. He specializes in creating custom spaces that are both beautiful and functional.