Convincing Tagline
Best White and Gray RTA Cabinets in the Business
If you want designers to design your kitchen for you or to save money on your purchase, click here
Top 10 Kitchen Cabinet Color Trends for 2023
By:
|
Last updated: November 26, 2022
Are you looking to revamp your kitchen cabinets but aren't sure what color to choose? Well, you're in luck! We've gathered the top kitchen cabinet color trends 2023 will bring so that you can pick the perfect shade for your home. Whether you're interested in a bright and bold color or something more neutral, we've got you covered. So, read on to find out which colors are trending right now and get started on your kitchen makeover today!
White Cabinets
If there's one thing that remains constant in home design, it's the popularity of white cabinets. Ever since they entered the mainstream over a century ago, white cabinets have remained an evergreen staple amongst homeowners. From Scandi-inspired minimalism to modern farmhouse style, white cabinets provide a canvas that enables any and every aesthetic to work beautifully.
With its ability to make a room seem bigger, brighter, and cleaner while also providing maximum versatility and easily coordinating with other furniture pieces like countertops and backsplashes, there's no doubt in this designer's mind that white cabinetry is here to stay – even if trends come and go around them. As we look into 2023 and beyond, designers are confident that white cabinets will remain the most popular colour for kitchen renovation projects everywhere. So if you're planning a facelift for your cooking space, you can rely on white as an informed investment in timeless style!
Espresso Cabinets
Part of the fun of being a homeowner is adding personal touches to a home's design. It is no surprise, then, that homeowners are looking for more exciting and interesting ways to express their own style in their space. As we look forward to 2023, espresso colored cabinets are quickly becoming the hottest trend in home design.
This sophisticated shade is by no means new, but its presence has been steadily increasing over the last few years. Indeed espesso cabinets have begun appearing everywhere from minimalist modern homes to vibrant Mediterranean kitchens. The great thing about espresso cabinets is that they can stand alone or serve as the perfect backdrop for any kind of personality and décor. Whether you're looking for something sleek and stylish or something bold and punchy, espresso colored cabinets will undoubtedly make quite an impact – one thing's for sure, it looks like this classic toned kitchen cabinetry isn't going anywhere anytime soon.
Two-Toned Cabinets
It's been said that, when it comes to interior decorating, you should always be looking ahead. And if the crystal ball is correct, it looks like 2023 will be all about two-toned cabinets – and especially black and white. There's something timelessly chic about a black-and-white colour combination, which has been present in everything from fashion to furniture for centuries.
In recent years, the monochrome trend has grown even more popular, with designers favouring a bold unison of black and white cabinets in kitchens and bathrooms alike. Not only does this create a classic aesthetic that won't be going out of style anytime soon, but also provides a perfect backdrop to bolder accents like colourful splashbacks or interesting hardware. Whether you're starting a new renovation or just looking to spruce up your current space with something fresh and on-trend: two-tone cabinets are the way to go!
See how our designers can
create

your Dream Kitchen
Get a free 2D layout
Design & layout with as many revisions until it's perfect!
3D rendering
High quality, realistic 3D rendering of project within 24 hours!
Itemized quote
Quotes are detailed, transparent, and come with 15 day Price Gurantee!
Professional Grade Design
Professionalism and quality so good, 15,000+ families have said YES!
BOOK A CALL
Gray Cabinets
Present-day homeowners have been presented with a number of design options when it comes to kitchen cabinets, from bright yellow to calming blue. However, as we turn the corner into 2023, trends predict that gray cabinets will be everywhere in the coming year. Gray has come a long way from its traditional 'blah' reputation; modern gray shades can be sleek and sophisticated or muted and easy to pair with nearly any decor type.
Plus, the neutral hue is timelessly chic so it won't go out of style in a few years like some more fleeting fashion choices could. One thing is for sure – if you want your kitchen featured on Pinterest next year, you'll need to switch out those colored cabinets and opt for gray! It's not as intimidating as it may seem – in fact, embracing this trend can guarantee that even your kitchen will look anything but "gray" come 2023.
Dark Wood Cabinets
Dark wood cabinets are all the rage in home decor for 2023. The black wood adds a rich and luxurious look to any space, bringing out all of the depth and grain of the wood itself. It's an ideal way to introduce black into any design scheme without having a full-on black wall or black furniture.
Black is making a major comeback this year, and dark wood cabinets appear to be leading the trend. Not only do they lend an air of sophistication, but they can also add a touch of edge and drama. Dark wood cabinets can give even basic cabinetry a modern update, whether it's used as primary storage or just an accent piece in rooms like bathrooms or kitchens. So if you want to stay ahead of the game for the coming year, dark wood cabinets should definitely be on your radar!
Earthy Green Cabinets
If you thought the past few years have given us some bold design choices in home decor, just wait until 2023. One prediction is that green cabinets will be all the rage, adding a touch of color and vibrancy to any room. We're already seeing this trend emerge – blue-green waters, deep sage greens, forest greens, you name it! Not only do these colors add a beautiful hue to your space but they also bring plenty of personality.
From glossy finishes to rustic stains, there are hundreds of styles to choose from that can match almost any aesthetic. So why wait? By starting with green cabinetry now, you'll be ahead the curve and ready when everyone else catches on. Chances are you'll already be enjoying the benefits of emerald interior design come 2023!
Navy Blue Cabinets
It looks like navy blue is going to be the color of choice for cabinets in 2023. After all, the maritime hue has proved popular in recent years in kitchens and bathrooms alike, thanks to its bold yet versatile appearance. For those with muted decor, navy blue can add a beautiful contrast. Meanwhile, its style adapts seamlessly to both modern and traditional interiors – ideal for homeowners who want their cabinets to fit in with their existing décor.
And if that isn't impressive enough, navy blue also offers a timeless elegance that will never go out of fashion. So if you're planning to redecorate your house next year, why not consider investing in navy blue cabinets? They'll bring a stylish edge to your living space that won't look out-of-date any time soon!
Beige Cabinets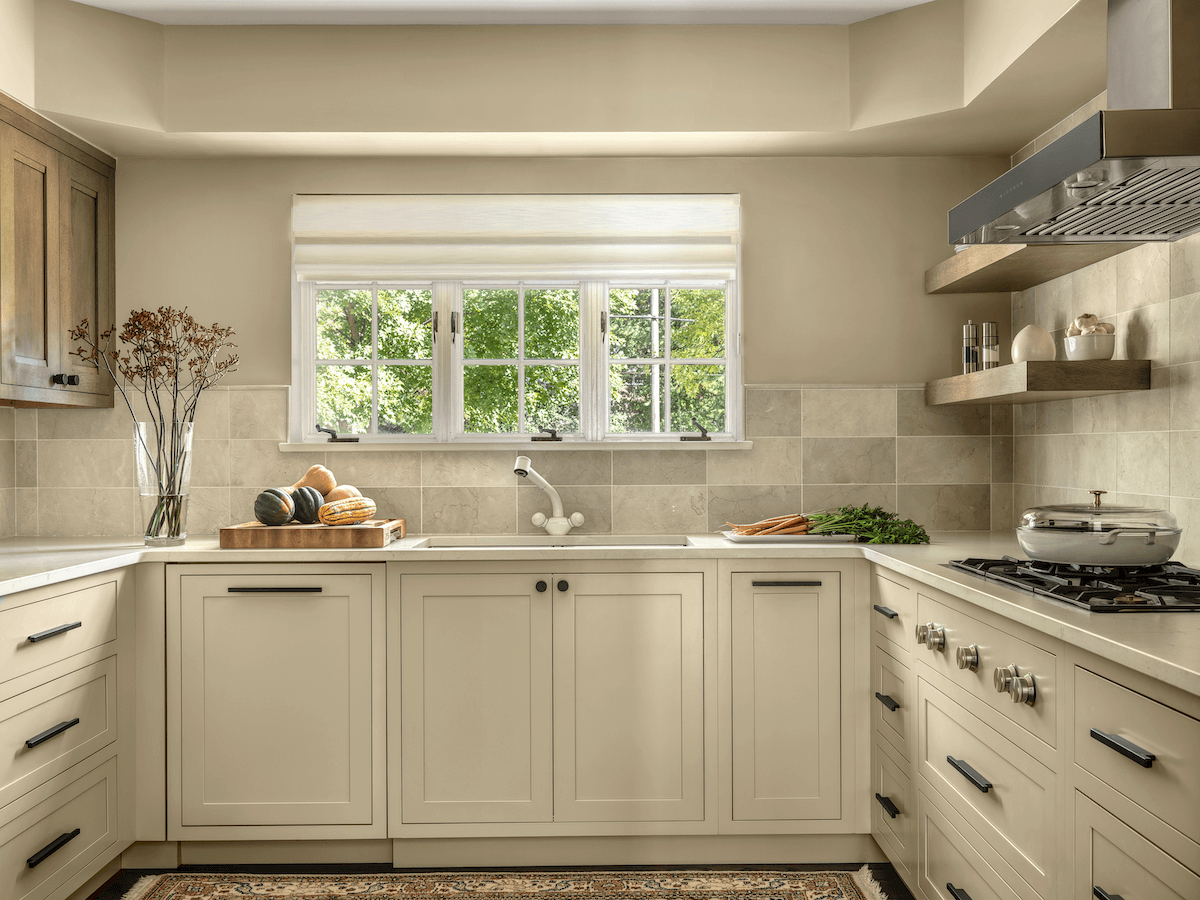 One of the most popular choices in cabinetry for 2023 is set to be beige. Beige cabinets give homeowners the ability to craft a subtle, yet pleasing aesthetic in their kitchen or bathroom that can stand the test of time and never go out of style. Beige may not always be seen as a daring color choice and often referred to as 'safe,' but don't underestimate its potential; creative use of contrasting shades and textures, such as dark wood trim or hardware, can help bring out the beauty of beige's understated hue.
In short, whether you're looking to give your space a timeless look that won't need major updates in years to come or are just seeking some subtle sophistication – it looks like beige cabinets are the way to go!
Tri-Tone Cabinets
When it comes to kitchen style trends, there's one trend that will be making waves in 2023: tri-tone cabinets. Featuring three distinct colors, this look creates a unique design statement that is sure to turn heads. Whether you choose to mix the wood grain and painted finishes of the same hue or opt for a more daring combination of navy, mint, and white, this style gives you the opportunity to express your personality in your cooking space.
Best of all, because they are so easy to customize with different hardware and materials, tri-tone cabinets can fit almost any vision and budget. So if you're looking for a way to give your kitchen a modern makeover without breaking the bank, look no further than tri-tone cabinets in 2023! They'll bring some much needed pizzazz into your culinary oasis in no time at all.
Natural Wood Cabinets
The kitchen has long been the heart of the home, and for years, homeowners have been turning to natural wood cabinets to bring warmth and character to their cooking spaces. Wooden cabinets are classic, timeless, and provide a touch of elegance that laminate surfaces simply can't replicate. Not surprisingly, trends indicate that natural wood cabinets will still be in demand as we move into 2023.
As our lifestyles become increasingly busy and hectic, they are a simple way to add a homey quality that instantly makes any kitchen seem snugly and inviting. By virtue of their warm colouring and durability, wooden cabinets also have the ability to meld with contemporary lines or rustic decor alike – making them incredibly versatile. On top of all this, there is something irrefutably enjoyable about admiring one's culinary supplies stored in sturdy wooden shelving; it brings out the inner homemaker in us all! It is clear why natural wood cabinets will remain a popular choice for many more years to come!
Final Thoughts
Kitchen design is always evolving, and new trends can revolutionize the look of a space in an instant. Color is particularly important when it comes to designing a kitchen, as cabinets form the backbone of any layout. Whatever color you choose, our free 3D design will help you get a clear idea of what your kitchen will look like – so explore away until you find something perfect for your home. Good luck!
Nelson Cabinetry
Nelson Cabinetry is an online distributor of high quality kitchen and bathroom cabinetry. We pride ourselves in delivering a high quality product via an easy to use, convenient website. Placing your cabinet order has never been easier and you can do so from the comfort of your home, office or job site.
Evan Nelson is an interior designer who believes that your home should reflect your unique style and personality. He specializes in creating custom spaces that are both beautiful and functional.