Convincing Tagline
Best White and Gray RTA Cabinets in the Business
If you want designers to design your kitchen for you or to save money on your purchase, click here
How to Remove Kitchen Cabinets Safely
By:
|
Last updated: June 8, 2022
Removing kitchen cabinets is a task that many people dread. The process can be messy and time-consuming, but it doesn't have to be! This blog post will guide you through the steps for removing kitchen cabinets safely and efficiently.
Removing kitchen cabinets is a job that many homeowners fear. The thought of having to remove and dispose of the cabinets, and then start all over again with new ones, can be daunting.  It's hard to know where to start, and even harder when you have no idea how to remove them safely! However, if you follow these steps when removing your kitchen cabinets, the process will go much smoother.
Safety First
Before starting the removal process, it is important that everyone in the home knows what needs to be done when cabinets are being moved or lifted off of their current location. This includes children and pets so they don't get themselves injured. Having a designated "cabinet removal area" is also important so that everything stays organized and there aren't any accidents.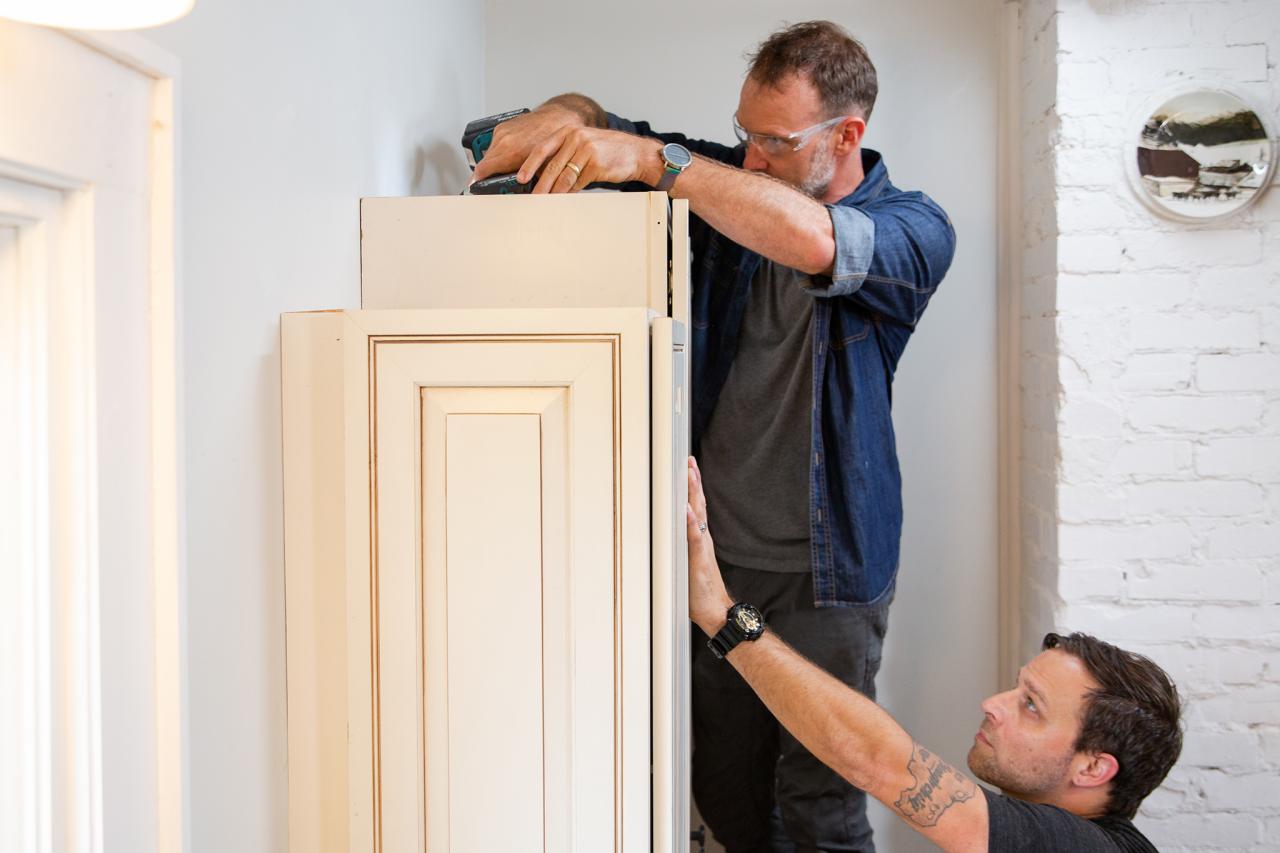 When it comes time to actually remove the cabinets, make sure you have at least two people helping you. You will want one person to hold the cabinet while another removes the screws or bolts holding it to the wall. Once everything is loose, you can slide or tilt your cabinets away from the wall very carefully and slowly to avoid any injuries like back strain or hand injuries.
Clear out Everything
The first step to take when removing kitchen cabinets is to get rid of all the items inside. Remove everything from shelves and drawers, then empty out any cabinet that has a door or lid on it. If there are appliances in your cabinets such as microwaves or ovens, you will have to disconnect these before pulling your cabinets away from the wall.
Gather Your Tools
Before you start removing your kitchen cabinets, make sure you have all of your tools ready. This includes a screwdriver, a drill, a hammer, and a saw. Having these tools handy will make the process go a lot smoother!
See how our designers can
create

your Dream Kitchen
Get a free 2D layout
Design & layout with as many revisions until it's perfect!
3D rendering
High quality, realistic 3D rendering of project within 24 hours!
Itemized quote
Quotes are detailed, transparent, and come with 15 day Price Gurantee!
Professional Grade Design
Professionalism and quality so good, 15,000+ families have said YES!
BOOK A CALL
Protect Your Floor
Cover your floors with plastic sheeting or old sheets to protect them from spills of hazardous materials like paint thinner or solvents that may drip out of cans when they are removed from shelves in storage areas under the cabinets.
Safely Remove the Cabinets
If possible remove all cabinet doors and drawers beforehand so you don't have to do this later on one by one. When removing kitchen cabinets, it's always a good idea to start with the base cabinets. These are the cabinets that are closest to the floor, and they're usually the easiest ones to take down. To remove a base cabinet, you'll need to remove the screws that hold it in place. Once the screws are removed, you can take the cabinet down by lifting it up and pulling it out of the opening.
Be careful when removing upper cabinets, as they're often heavier than base cabinets. If you need to remove wall cabinets, you will have to start by taking off the shelves and drawers. This will give you access to the screw that attaches to the door hinges. Once removed, you can take out the screws on the trim or frame holding up the cabinet. Now you can pull down the cabinet by lifting it up and pulling it out of its opening.
Pro Tips
The following are some more tips for removing cabinets safely:
Don't try to remove any cabinets that are in a dangerous spot where they could fall on someone if their feet are near them.
It's often safer to leave your refrigerator in place when removing kitchen cabinets – in most cases, it will stay in place because there is no way for it to move.
If you have any questions or concerns, it's always best to consult a professional before attempting to remove kitchen cabinets on your own. They will be able to help you with the process and ensure that it is done safely.
It's Time for New Kitchen Cabinets
Now that your old kitchen cabinets are gone, you will want to purchase new ones! Take measurements of where they should go before you head to any home improvement stores. Make sure that your measurements are accurate and remember the golden rule: measure twice, cut once! The last thing you want is for your new cabinets to be too big or too small for their designated space in the kitchen.
If you're in the market for durable and timeless cabinets, take a look at our white and gray shaker collections that will surely fit into your dream kitchen design!
Final Thoughts
Removing old kitchen cabinets can be a challenging task, but following these tips should make it a relatively simple and safe process. Thank you for reading! Be sure to check back soon for more blog posts on home improvement projects.
Nelson Cabinetry
Nelson Cabinetry is an online distributor of high quality kitchen and bathroom cabinetry. We pride ourselves in delivering a high quality product via an easy to use, convenient website. Placing your cabinet order has never been easier and you can do so from the comfort of your home, office or job site.
Evan Nelson is an interior designer who believes that your home should reflect your unique style and personality. He specializes in creating custom spaces that are both beautiful and functional.