Convincing Tagline
Best White and Gray RTA Cabinets in the Business
If you want designers to design your kitchen for you or to save money on your purchase, click here
How to Design a Nautical Bathroom
By:
|
Last updated: December 7, 2021
Even if you don't live by the beach, it is possible to bring a little bit of ocean inside. Nautical bathroom design is a popular choice for those who want to make their homes feel like they are on vacation. Regardless of where your house may be located, you can create an entirely new world right within your four walls!

Credits: Sebring Design
The nautical design has become a popular choice among homeowners who want their homes to feel as though they are living close enough for a swim at any moment's notice. Let's learn how we can achieve this style!
Blue and White Stripes
Nautical designs are all about the ocean, and they have a color scheme to match. Create blue and white stripes on your bathroom walls. We recommend going with navy blue, but you can use any shade of blue you like.
Use blue and white stripes to create a navy look
Source: The Spruce
If big bold stripes are too much for you, but you still want to create the nautical feel, paint in whites or neutrals. Gray is also a great option! It's important to choose colors that you will personally enjoy.
Use Natural Materials
The first time I went to the beach, all I could think about were those crystal-clear waves crashing against the sand. They seemed like they would never end and each one left me feeling lost in its own personal medley of sound – thunderous yet soothing at once. When we picture our favorite seaside getaway what comes into mind? The blues of sky meeting with deep green water on a sunny day… then maybe some driftwood pieces half-buried by moist pebbles; palm trees swaying gently as if whispering secrets only they know…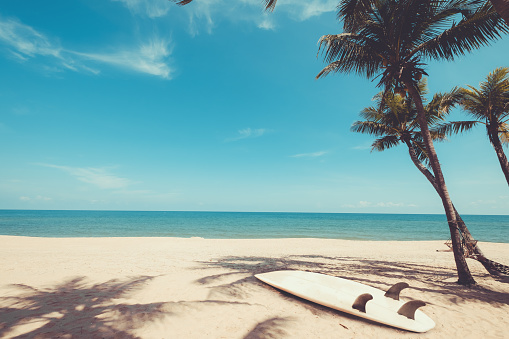 Source: Unsplash
You may be tempted to use synthetic materials but the designers recommend going with natural materials instead. A great way to give your bathroom an authentic seaside feel without having those pesky rustic features would be by using wood. Stone is also a great material – the natural beauty of stone is undeniable, and it makes for a captivating bathroom flooring.
Choose the Right Tiles
Beach bathrooms are usually filled with neutral colors, but it's fun to make a change and add some color. You can use blue or green tiles for an interesting look that will stand out. You can also go with neutral and choose stone tiles.
Install a White Vanity
Nothing evokes the calmness of seaside living more than cool, crisp white vanity cabinets. They are a classic choice for nautical and other ocean-themed bathrooms designs since they reflect light giving your bathroom that light breezy beachside feeling while at the same time being a great canvas to decorate with whatever you desire. This amazing white vanity from Nelson Cabinetry will make you feel like you're on vacation!
The Power of Details
When it comes to nautical bathroom designs, there is no shortage of options when looking for light fixtures that mimic the lamps found in boats. They're a unique design element and can give your space an authentic finishing touch with their charming simplicity! There is a wide range of options when it comes to nautical decorations like seashells, starfish, driftwood, and sand.
Conclusion
You can create a nautical bathroom in your home with the help of these steps. Paint the walls in an ocean-themed color palette and choose the right tiles. Install a white vanity and add nautical decorations. Now go get started on turning your old bath into something special by following these tips!
Nelson Cabinetry
Nelson Cabinetry is an online distributor of high quality kitchen and bathroom cabinetry. We pride ourselves in delivering a high quality product via an easy to use, convenient website. Placing your cabinet order has never been easier and you can do so from the comfort of your home, office or job site.
Evan Nelson is an interior designer who believes that your home should reflect your unique style and personality. He specializes in creating custom spaces that are both beautiful and functional.