Convincing Tagline
Best White and Gray RTA Cabinets in the Business
If you want designers to design your kitchen for you or to save money on your purchase, click here
Have Granite Countertops Gone Out of Style?
By:
|
Last updated: June 13, 2022
As you renovate your kitchen, you may come across some designs from twenty years ago that look hopelessly outdated. How are you to know what will be in style twenty years from now? Countertops can be quite a significant investment, and it makes a lot of sense to wonder what will still be in style down the road. Countertops in particular can have trouble standing the test of time, so it's important to choose wisely.
History of granite in the US
Granite was used as a material for countertops as early as the 1920s, but it actually started to gain more widespread popularity in the 1970s. Because there are so many other fashions from this period that many people would rather leave behind, it's not surprising that some homeowners might end up being wary of granite. However, thanks to its natural beauty and properties that make every piece unique, granite consistently found its way into American kitchens over the course of the twentieth century and is still a top choice in 2022.
How popular granite is now
While granite is just the second-most popular countertop material (with quartz coming in first), it's been at the top of the list for decades. This means that while it isn't all the rage, it's a reliable standby. However, there is one trend from the early 2000s that has disappeared: granite everywhere. There was a time when homeowners just couldn't get enough granite, using it for backsplashes, countertops, and kitchen islands. Nowadays, the trend is to be more sparing with the use of granite instead of using the material for every conceivable surface. Approximately twenty per cent of renovators today are choosing a contrasting material for their kitchen islands. Because it is such a bold material, it is best to not go overboard with granite.
See how our designers can
create

your Dream Kitchen
Get a free 2D layout
Design & layout with as many revisions until it's perfect!
3D rendering
High quality, realistic 3D rendering of project within 24 hours!
Itemized quote
Quotes are detailed, transparent, and come with 15 day Price Gurantee!
Professional Grade Design
Professionalism and quality so good, 15,000+ families have said YES!
BOOK A CALL
A classic beauty
Granite can therefore be considered a classic, just like the Shaker cabinet style. In fact, these two are a fantastic combination and are frequently seen together. In fact, if you explore houzz.com, there are more than 90,000 photos of kitchens with Shaker cabinets and granite countertops. Some of the most beautiful designs feature a soothing combination of gray cabinets topped with light-colored granite. There are also many images that feature the striking look of white cabinets paired with black granite countertops. Deciding on the countertop material and the cabinet style is just the beginning: after that, the possibilities for your color palette are virtually infinite.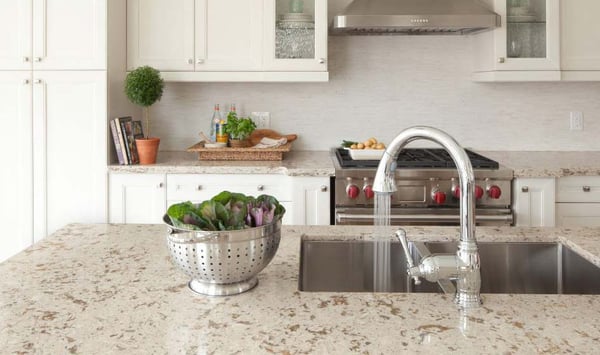 Variety and versatility
There is an amazing variety of granite colors available, meaning that it's possible to match it with practically any color scheme that you have in mind for your kitchen remodel. Uba tuba is a granite type that comes from Brazil and is generally green with metallic flecks. It is one of the less expensive types of granite, which means that it has less cachet than costlier types such as black galaxy, Kashmir gold, and blue pearl granite. As its name suggests, black galaxy granite has natural sparkly patterns that look like swirls of little stars. If you opt for darker granite types like uba tuba and black galaxy, the next step will be to decide if you want to stick to other dark colors for the cabinets and flooring of you want contrast with white cabinets, for example, and light wood flooring.
Conclusion: Granite is here to stay
There are many different granite types to choose from, and a lot will depend on what color cabinets you choose. Each kind of granite own style, so be sure to consider the overall look that you want for your kitchen before you decide. If you'd like to peruse cabinets in order to get a sense of the bigger picture, be sure to browse our white collection or gray collection of cabinets. Granite and the Shaker style is a classic combination that will never go out of style.
Nelson Cabinetry
Nelson Cabinetry is an online distributor of high quality kitchen and bathroom cabinetry. We pride ourselves in delivering a high quality product via an easy to use, convenient website. Placing your cabinet order has never been easier and you can do so from the comfort of your home, office or job site.
Evan Nelson is an interior designer who believes that your home should reflect your unique style and personality. He specializes in creating custom spaces that are both beautiful and functional.