Convincing Tagline
Best White and Gray RTA Cabinets in the Business
If you want designers to design your kitchen for you or to save money on your purchase, click here
Designing Your Airbnb Kitchen For Maximum Appeal
By:
|
Last updated: November 10, 2022
If you are an Airbnb host, it is important to make sure your kitchen looks its best. After all, this is one of the most important rooms in the house! In this blog post, we will discuss some tips for designing your Airbnb kitchen that will make your guests feel right at home!
What Makes a Good Airbnb Kitchen?
When it comes to cooking, having a well-equipped kitchen is essential. Not only does it need to have all of the basic tools and appliances that you need for everyday cooking, but it should also be tidy and spacious enough to allow you to fully express your culinary creativity.
At the same time, there are other factors that can make your Airbnb kitchen feel like a real home away from home. For example, good lighting is important, as well as ample storage space for all of your pots, pans, utensils, herbs and spices. In addition, kitchens with modern appliances and attractive decor can help to create a more relaxing ambiance while you're cooking.
Finally, a good Airbnb kitchen should feel convenient to use. This means that it should be easy to navigate with all of the equipment conveniently located within reach, as well as clear instructions on how everything works provided up front. Altogether, these elements make up what makes a great Airbnb kitchen – one that has everything a guest needs in order to cook their own meals during their stay.
Airbnb Kitchen Design Tips
While many people think about the bedroom and bathroom when they are looking for a place to stay, the kitchen is also an important part of the rental. Here are some tips to design a perfect Airbnb kitchen.
Keep it Simple
When it comes to Airbnb kitchen design, simplicity is the key. A simple, minimalistic design allows for easier upkeep and maintenance, while also creating a more spacious and welcoming environment. Minimalist kitchens tend to have open shelving, utilizing every inch of space in order to maximize storage without sacrificing aesthetic appeal. They also tend to incorporate neutral or monochromatic palettes, making it easy to combine different kitchen elements without clashing colors or textures.
Make it Functional
When designing an Airbnb kitchen, it is important to focus on functionality as well as aesthetics. After all, the goal of this space is to make your guests comfortable and ensure that they have everything they need to prepare their meals. Some key considerations when planning your kitchen space include optimizing storage options, using high-quality appliances, and incorporating an efficient layout.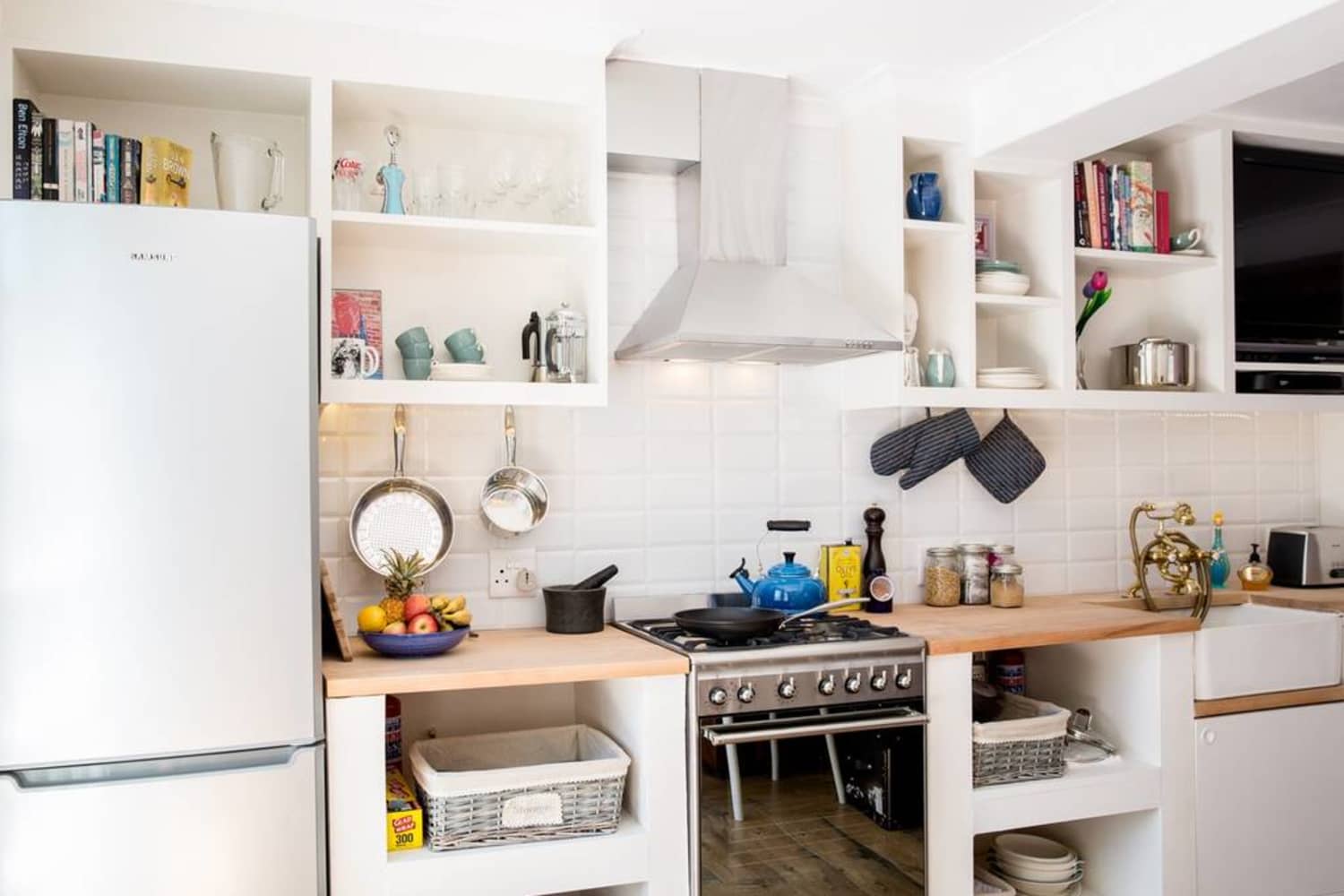 To achieve the best possible results in terms of functionality, it is essential to incorporate plenty of storage space into the design. This can include cupboards and cabinets that have adjustable shelves or built-in islands with drawers or doors for extra storage. For added convenience, you may also want to consider including gadgets like wine racks and trash cabinets – things that will make your guests' stays both convenient and enjoyable.
Identify Your Target Guests
Knowing which types of travelers will be using your kitchen will help you determine the best layout and features for the space. For example, if you're targeting families or large groups, you may want to invest in a large workstation with ample counter space and appliances that are easy to use and clean. You might also consider amenities like dishwashers or coffee makers to make guests' lives easier during their stay.
Alternatively, if your target guests tend to be younger travelers or couples, you could focus on optimizing efficiency instead. This might mean choosing smaller appliances and more compact layouts, as well as creating quiet areas where guests can get some space when they need it.
Keep the Same Style Throughout Your Airbnb Home
When designing the kitchen in your Airbnb home, it is important to keep a consistent style throughout. This will help create a sense of cohesion and visual appeal, making it a welcoming space for your guests. By carefully selecting each piece in your kitchen with care, you can create an inviting space that guests will love spending time in both for preparing meals and simply hanging out.
How Much Does it Cost to Remodel an Airbnb Kitchen
When it comes to remodeling your Airbnb kitchen, there are a number of factors that will affect the total cost. Some of the key considerations include the size and type of appliances you want to install, as well as the materials and finishes you choose for your countertops, cabinets, and floors. You may also need to hire contractors or suppliers who specialize in commercial kitchens, which will add additional costs to your project.
However, there are several strategies that you can use to help keep costs under control. For example, choosing low-cost appliances and materials can help to reduce overall expenses, while looking for ways to repurpose existing materials can help you save money on labor. Additionally, trying DIY projects around your home like painting and flooring can also be a great way to cut down on costs without compromising on quality.
One important consideration is the type of cabinets that you choose, as this will have a significant impact on both the overall look and function of your kitchen. In general, RTA kitchen cabinets are among the most budget-friendly options, as they are factory-made and pre-assembled, meaning they require minimal labor and installation costs. Additionally, these types of cabinets tend to be sturdy and durable, allowing them to withstand the demands of everyday use without breaking down or showing wear and tear.
Overall, there is no one-size-fits-all answer when it comes to how much it will cost to remodel your kitchen. But with some careful planning and budgeting, you can complete a successful remodel that meets all your needs while staying within your budget.
See how our designers can
create

your Dream Kitchen
Get a free 2D layout
Design & layout with as many revisions until it's perfect!
3D rendering
High quality, realistic 3D rendering of project within 24 hours!
Itemized quote
Quotes are detailed, transparent, and come with 15 day Price Gurantee!
Professional Grade Design
Professionalism and quality so good, 15,000+ families have said YES!
BOOK A CALL
Final Thoughts
When it comes to designing your Airbnb kitchen, there are a number of factors that you need to keep in mind in order to ensure that your space is not only functional and comfortable for guests, but also appealing and inviting. One great way to get started with this process is by using a free 3D kitchen design tool like the one provided by Nelson Cabinetry. This allows you to easily create a digital version of your kitchen space and then customize it according to your needs, preferences, and goals. So why wait? Start designing your perfect Airbnb kitchen today!
Nelson Cabinetry
Nelson Cabinetry is an online distributor of high quality kitchen and bathroom cabinetry. We pride ourselves in delivering a high quality product via an easy to use, convenient website. Placing your cabinet order has never been easier and you can do so from the comfort of your home, office or job site.
Evan Nelson is an interior designer who believes that your home should reflect your unique style and personality. He specializes in creating custom spaces that are both beautiful and functional.