Convincing Tagline
Best White and Gray RTA Cabinets in the Business
If you want designers to design your kitchen for you or to save money on your purchase, click here
How to Design a Galley Kitchen
By:
|
Last updated: October 12, 2022
The galley kitchen has been a highly functional design for homes with small and narrow spaces. It is a space-saving kitchen design that can be used in small spaces such as apartments and condos. This kind of layout provides an efficient way to cook, prepare food, and clean up afterward.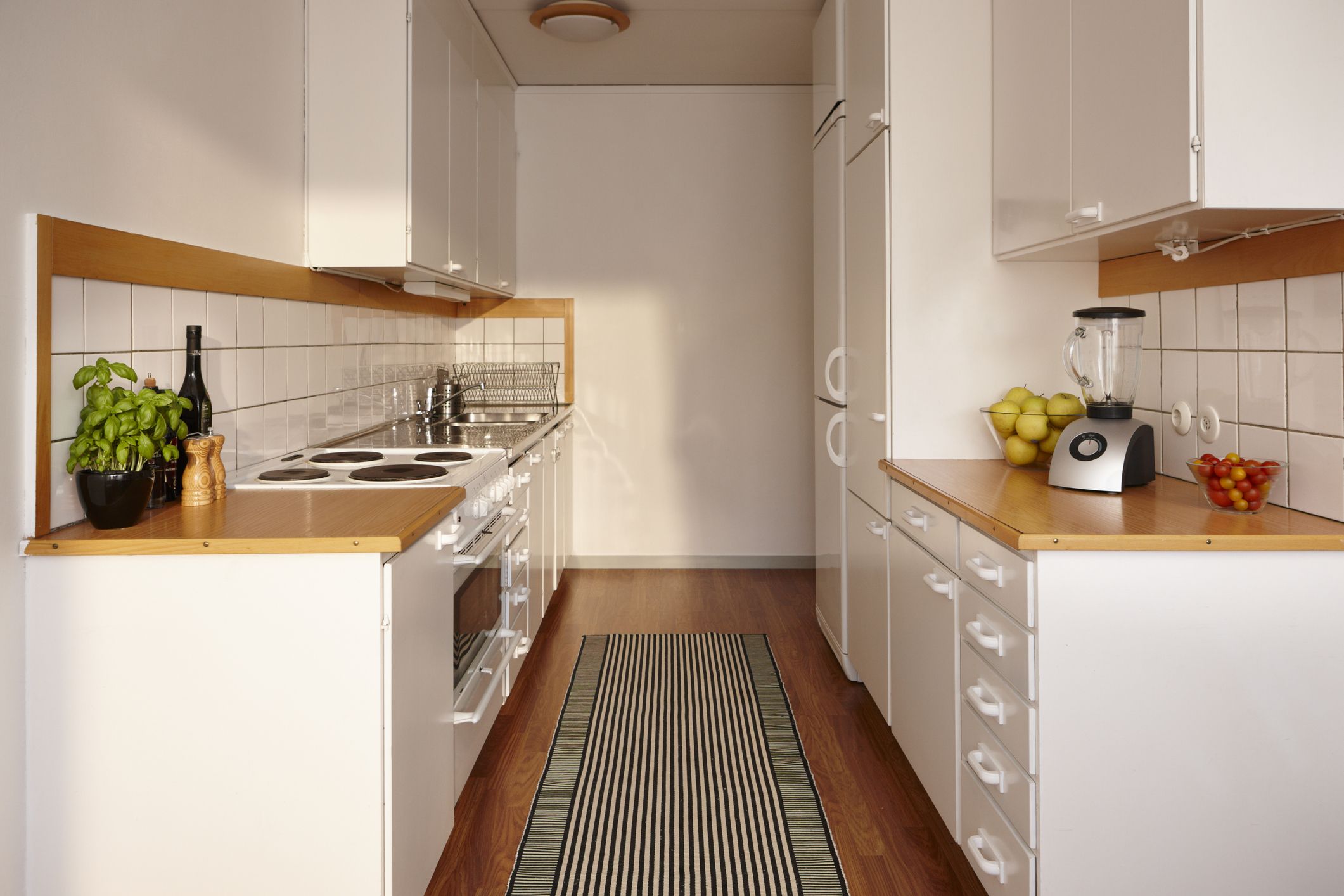 A galley kitchen is a great solution for small spaces, but it can be difficult to design. This article will take you through the process of galley kitchen design step by step, helping you create an efficient galley that maximizes your available space!
Advantages of a Galley Kitchen
The galley kitchen layout is often long and narrow, like the boats that it takes its name from. The limited space in these kitchens forces cooks to think creatively about how they use their available resources best – just as ships' crews had done for centuries before them!
Here are some of the advantages of a galley kitchen:
Ideal for small and narrow spaces
Highly functional design
Forms a central corridor within your home
Optimizes storage
Reduces access to working zones
Option to add a seating/dining zone
Think of the Layout
A well-designed layout will make the most of your space, making navigation easier and safer. It also helps keep things clean by keeping them out of sight when they're not in use or being used for a different task than originally intended.
The galley kitchen has limited space and although it can be easy to get overwhelmed, you should make use of every inch. A great tip for an efficiently designed galley kitchen layout is making enough space between opposing units. Too narrow and you'll be forever squeezing past each other, too wide – everything just becomes a bit too far away!
A kitchen triangle is an essential layout for a galley kitchen. It is the space created by the three main work areas in the kitchen: the refrigerator, the stove, and the sink. This triangle should be as small as possible to optimize the use of space in a galley kitchen.
Optimizing the Storage Space
Cupboards and cabinets should be strategically placed in galley kitchens to avoid overwhelming the long, narrow space. Make sure you have plenty of room for movement around as well as storage for all your essentials!
Galley kitchens are often designed with symmetrical layouts, and this layout is achieved by positioning low cabinets on either side. The walls do not need to mirror one another perfectly; however, keeping both sides similar will help you create a balanced finish in your home's interior design! If you need more space in your kitchen, consider placing tall cabinets on one wall and leaving the workspace on the other side open.
See how our designers can
create

your Dream Kitchen
Get a free 2D layout
Design & layout with as many revisions until it's perfect!
3D rendering
High quality, realistic 3D rendering of project within 24 hours!
Itemized quote
Quotes are detailed, transparent, and come with 15 day Price Gurantee!
Professional Grade Design
Professionalism and quality so good, 15,000+ families have said YES!
BOOK A CALL
Lighting and Color Tricks
It's important to choose proper lighting and cabinet colors as they can create an illusion of a bigger space. Some surprisingly simple tricks can transform your galley kitchen into a comfortable and stylish space.
For a galley kitchen, natural light would be the best solution. However, if you're lacking natural light we recommend going with layered, task, or pendant lights.
Light-colored cabinets will instantly create a bright and elegant atmosphere. They can be paired with either laminate, granite, or timber worktops for an ultra-modern finish that is sure to impress! We know you're looking for those perfect white cabinets. That's why we prepared a huge selection just for you! Why not check them all out?
Final Thoughts
If you've ever had to work with a small galley kitchen, then chances are that you know the struggle of trying to navigate around all the appliances and find enough space for your groceries. There is so much wasted space in these types of kitchens because there isn't enough room for everything! Luckily, we have some great design tips that will help maximize every inch of this type of kitchen layout. With our advice on how to make use of unused walls or counter space, it won't be long before you're cooking up delicious dishes again without feeling cluttered. Have any other questions? Contact us today – our experts can provide more design solutions tailored specifically to your needs!
Nelson Cabinetry
Nelson Cabinetry is an online distributor of high quality kitchen and bathroom cabinetry. We pride ourselves in delivering a high quality product via an easy to use, convenient website. Placing your cabinet order has never been easier and you can do so from the comfort of your home, office or job site.
Evan Nelson is an interior designer who believes that your home should reflect your unique style and personality. He specializes in creating custom spaces that are both beautiful and functional.