Convincing Tagline
Best White and Gray RTA Cabinets in the Business
If you want designers to design your kitchen for you or to save money on your purchase, click here
Crown Moulding: The Recently-Rediscovered Kitchen Solution
By:
|
Last updated: July 26, 2022
Crown moulding provides for an elegant transition between your kitchen cabinets and the ceiling. Crown moulding can make a huge difference in the look and feel of your kitchen, so don't hesitate to give it a try!
Some people might not give crown moulding much thought when they are considering home renovations. However, crown moulding can be a fantastic way to add visual appeal to your kitchen! Here are 3 reasons why crown moulding is the perfect finishing touch for any kitchen.
What is Crown Moulding?
Crown moulding is a type of moulding that is typically used in ceilings and walls. It is a decorative piece that can add a touch of elegance to any room. In the past, crown moulding was most commonly used in formal spaces like living rooms and dining rooms. But recently, homeowners have been using crown moulding in their kitchens as well.
Why is Crown Moulding Still a Great Idea?
It Can Make Your Kitchen Look Larger
There are a few reasons why crown moulding is a great choice for your kitchen. First of all, it can help to make the space look bigger and more open. Crown moulding adds height to the room, and it can help to create a more balanced look.
See how our designers can
create

your Dream Kitchen
Get a free 2D layout
Design & layout with as many revisions until it's perfect!
3D rendering
High quality, realistic 3D rendering of project within 24 hours!
Itemized quote
Quotes are detailed, transparent, and come with 15 day Price Gurantee!
Professional Grade Design
Professionalism and quality so good, 15,000+ families have said YES!
BOOK A CALL
Affordable Elegance
Crown moulding can be a great way to add some personality and character to your kitchen. It is a decorative piece that can add a touch of elegance to any room, especially the kitchen.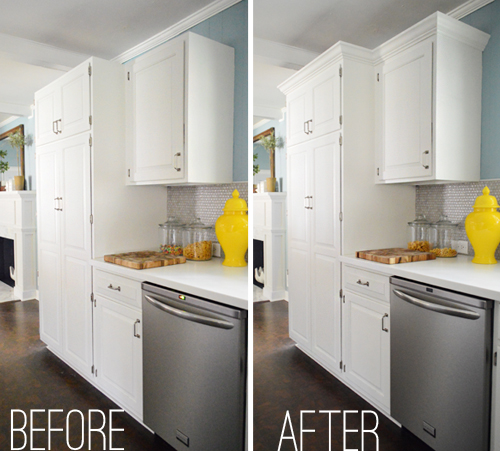 Crown moulding is a relatively affordable way to enhance your kitchen. The cost varies depending on the type of crown moulding you choose and the size of your kitchen, but it's generally less expensive than other renovation projects. If you're looking for a way to make your kitchen feel special and unique, check out this amazing crown moulding from Nelson Cabinetry!
Versatility
Crown moulding provides a timeless look for any type of kitchen. Whether you have a traditional or modern home, the crown moulding will look great!
Things to Consider
Crown moulding is a beautiful and affordable way to enhance your kitchen. If you're thinking about adding crown moulding to your kitchen, there are a few things to keep in mind. First, crown moulding is typically only recommended for use in kitchens with ceilings that are at least eight feet high. You may also want to consider having crown moulding installed on your walls as well if you have the space available — this can help create more balance and symmetry within the room.
Conclusion
Crown moulding is a great way to add elegance and style without breaking the bank. There are many types of crown mouldings that can fit into any type of kitchen, no matter what your design aesthetic may be. If you're looking for ways to spruce up your space while staying on budget, consider adding some crown molding today!
Nelson Cabinetry
Nelson Cabinetry is an online distributor of high quality kitchen and bathroom cabinetry. We pride ourselves in delivering a high quality product via an easy to use, convenient website. Placing your cabinet order has never been easier and you can do so from the comfort of your home, office or job site.
Evan Nelson is an interior designer who believes that your home should reflect your unique style and personality. He specializes in creating custom spaces that are both beautiful and functional.