Convincing Tagline
Best White and Gray RTA Cabinets in the Business
If you want designers to design your kitchen for you or to save money on your purchase, click here
Creating a Mudroom That You'll Fall in Love With
By:
|
Last updated: June 7, 2022
A mudroom is a room that has two functions: to act as an entrance and storage space. The purpose of this article is to help you create the mudroom of your dreams by providing helpful tips on designing, furnishing, and organizing it.
A mudroom is designed to keep dirty clothes and shoes separate from the rest of the house. It's an area where you can take off your boots or put on some slippers before entering your home. If you're looking for ways to design a mudroom that will suit all of your needs, then this blog post is perfect for you!
Consider the Layout
When it comes to designing a mudroom, there are many things to consider. The first decision you need to make is the layout of the room. Will it be open or closed off from the rest of your home? If you're working with a small space, an open layout may be best so that the mudroom can double as a hallway. If you have a little more room to work with, consider creating a closed-off space with a door that leads directly into your home. Make sure that the mudroom is easily accessible from both the inside and outside of your home. Also, consider where mudroom furniture should go and how it will look in the room.
See how our designers can
create

your Dream Kitchen
Get a free 2D layout
Design & layout with as many revisions until it's perfect!
3D rendering
High quality, realistic 3D rendering of project within 24 hours!
Itemized quote
Quotes are detailed, transparent, and come with 15 day Price Gurantee!
Professional Grade Design
Professionalism and quality so good, 15,000+ families have said YES!
BOOK A CALL
Mudroom Essentials
Once you've decided on the layout of your mudroom, it's time to start thinking about furniture. What type of storage will you need to store mudroom items? Do you have large or bulky pieces that will need to be put away in the mudroom? Whatever your needs are, there's a piece of mudroom furniture for it.
There is no limit on how much mudroom furniture you can have in your home! Understanding the needs of your household is our first tip. Make a list of what items you need to store there: jackets, boots, shoes, scarves, mittens, flashlights, dog leash, keys, briefcases… By adding cabinets to your mudroom, you will have storage space for all your needs. If one of your mudroom goals is to create more space, there are many mudroom storage units that will help you achieve it. Check out this amazing collection at Nelson Cabinetry for more inspiration on perfect cabinets for your dream mudroom!
Other mudroom essentials include a hook for your coats and jackets, a bench-seating, open shelving for small items, ceramic tiles as they're non-porous and easy to maintain, and if there's space – a sink!
Mudroom Design
Now that you have an idea of what type of mudroom furniture you need, it's time to start thinking about the mudroom design. One of the most important things to consider when designing your mudroom is the color scheme. You want the mudroom to be a cheerful and welcoming space, so choose colors that will make you happy every time you walk in. White mudroom pieces like cabinets are perfect because they will match any desired style. Another thing to consider is mudroom decorating ideas such as wall art, mirrors and rugs. These items can help personalize your mudroom design while also adding interest.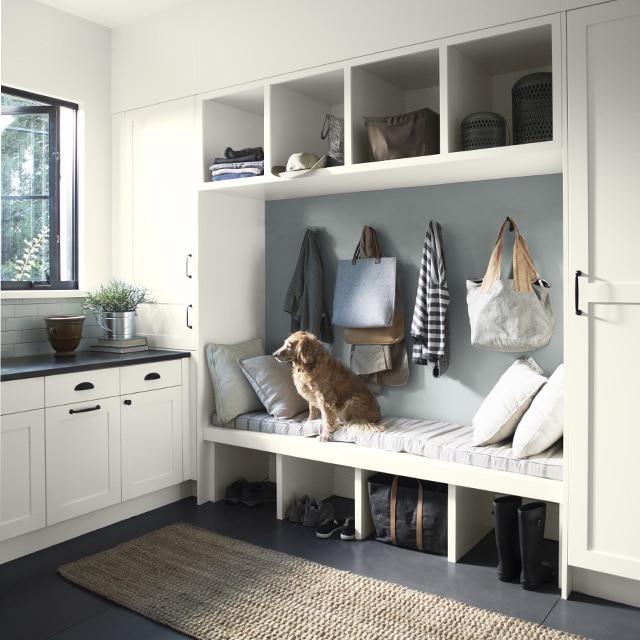 Once you have a mudroom design that works for you, it's time to shop! Mudrooms are one of our favorite rooms because they can be designed to fit any lifestyle or decor style. There is nothing worse than walking into a mudroom that doesn't reflect your personal style. So, take your time and find mudroom furniture and accessories that you love.
Final Thoughts
Now that you have all the information you need to create the perfect mudroom, get started! Our free 3D design tool can also be helpful when creating your dream spaces. And be sure to come back and let us know how it turns out. We can't wait to see your beautiful mudroom!
Nelson Cabinetry
Nelson Cabinetry is an online distributor of high quality kitchen and bathroom cabinetry. We pride ourselves in delivering a high quality product via an easy to use, convenient website. Placing your cabinet order has never been easier and you can do so from the comfort of your home, office or job site.
Evan Nelson is an interior designer who believes that your home should reflect your unique style and personality. He specializes in creating custom spaces that are both beautiful and functional.