Convincing Tagline
Best White and Gray RTA Cabinets in the Business
If you want designers to design your kitchen for you or to save money on your purchase, click here
Are Premade Cabinets Good? Pros and Cons
By:
|
Last updated: June 8, 2022
Kitchen cabinets are an important part of any kitchen remodel. They provide both form and function, and can make or break the look of your kitchen. When choosing cabinets, it is important to consider both the style of your kitchen and the needs of your family.
There are a lot of factors to consider when you are remodeling your kitchen. One of the most important decisions you will have to make is what type of cabinets to choose. There are two main options: custom cabinets or premade cabinets. In this blog post, we will discuss the pros and cons of pre-made cabinets so that you can make an informed decision about what is best for your home.
What are Premade Cabinets?
Any cabinet that is not built on-site is considered a pre-assembled or premade cabinet. This type of cabinetry is often made in a factory and then shipped to the job site, where it is installed by a professional. Premade cabinets are available in a wide range of styles, materials, and price points, making them a popular choice for many homeowners. 
One of the main advantages of premade cabinets is that they can be installed relatively quickly. This is due to the fact that all of the pieces are cut and finished in the factory, so there is no need for on-site construction, and they usually come in standard sizes. In addition, premade cabinets are often less expensive than custom cabinets because they do not require the same level of craftsmanship.
Premade Cabinets vs Custom Cabinets
When it comes to kitchen remodeling, one of the most important decisions is choosing the right cabinets. There are two main options: premade cabinets and custom cabinets. Each option has its own advantages and disadvantages. Premade cabinets are typically less expensive than custom cabinets. They also tend to be quicker to install, since they are already built and ready to be placed in your kitchen. 
However, premade cabinets may not always be the best fit for your kitchen. Custom cabinets, on the other hand, are made to order based on the specific dimensions of your kitchen. This means that they will fit perfectly in your space, but it also means that they can take longer to arrive and be more expensive.
The best option for you will depend on your unique needs and style preferences. If premade cabinets are what you're looking for, know that they come with a few drawbacks as well. 
Are Premade Cabinets Good?
Premade cabinets are a good option for many homeowners. They come in a variety of styles and can be customized to fit any space. Premade cabinets are also usually less expensive than custom-made cabinets. Installation is typically quick and easy, and most manufacturers offer a warranty on their products.Premade cabinets are also a good choice for people who want to remodel their kitchens but do not have the time or budget for a major renovation.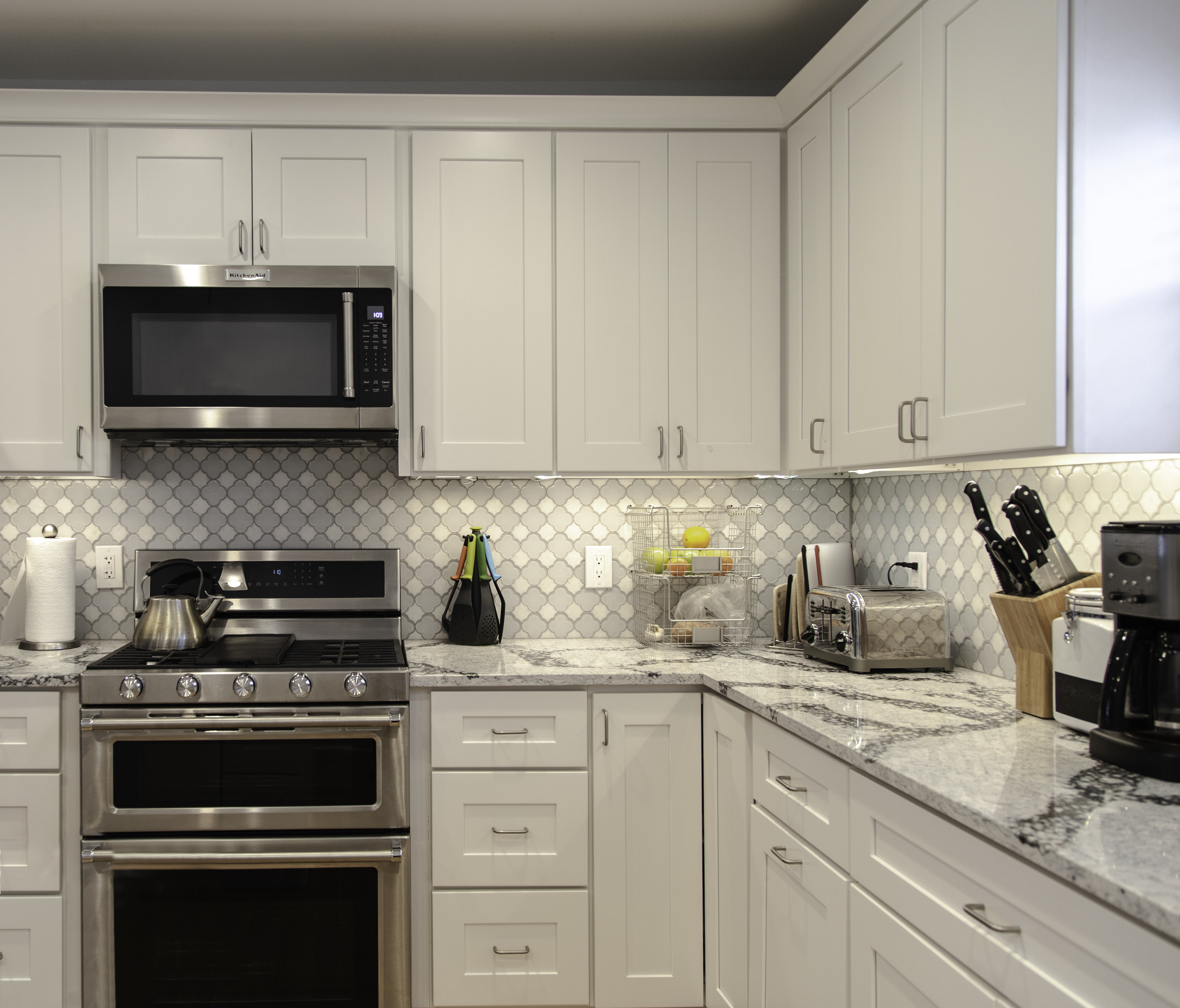 Any experienced woodworker will tell you that building your own cabinets is the best way to get exactly what you want. But if you're not a skilled craftsman, or if you don't have the time or patience for a DIY project, premade cabinets can be a good option.
See how our designers can
create

your Dream Kitchen
Get a free 2D layout
Design & layout with as many revisions until it's perfect!
3D rendering
High quality, realistic 3D rendering of project within 24 hours!
Itemized quote
Quotes are detailed, transparent, and come with 15 day Price Gurantee!
Professional Grade Design
Professionalism and quality so good, 15,000+ families have said YES!
BOOK A CALL
Buying Premade Cabinets Online
More and more people are turning to online shopping for their cabinetry needs. There are many reasons to buy premade cabinets online. For one, it's convenient. You can browse through a wide variety of options from the comfort of your own home, and you don't have to deal with the hassle of driving to a store and dealing with pushy salespeople. In addition, you can often find better prices online than you would in a physical store.
There are a few things you should keep in mind if you're thinking of buying premade cabinets online. First, make sure to measure your space accurately. It's also important to consider the style of your home when choosing cabinets – you want them to complement the overall look of your kitchen or bathroom. Keep in mind that online photos can be deceiving, so make sure to read the description carefully before making a purchase. Finally, remember that shipping times can vary, so plan accordingly if you're working on a tight timeline. 
By following these simple tips, you can be sure to find the perfect cabinets for your home – without any headache or hassle.
Premade Cabinets: Pros and Cons
Everything comes with pros and cons, and that includes premade cabinets. Let's take a closer look!
Pros of Premade Cabinets
Quick and easy installation

– Premade cabinets can be installed in a fraction of the time it would take to install custom cabinets.

Low cost

– Premade kitchen cabinets are much more affordable than custom cabinetry.

A variety of styles and finishes to choose from

– There is a wide variety of premade kitchen cabinet styles and finishes to choose from, so you're sure to find something that will suit your taste and needs.

Easy to update

– If you decide you want to change the look of your kitchen down the road, updating your cabinets is a relatively easy task.
Cons of Premade Cabinets
Premade cabinets can be expensive and don't always fit your needs

– With Nelson Cabinetry, you can use a

free 3D kitchen design

so you can visualize everything beforehand.

Lack of customization –

Premade cabinets often come in limited styles and colors, while Nelson Cabinetry offers a

wide range of options

to choose from.

Premade cabinets can be difficult to install

– Nelson Cabinetry provides easy-to-follow installation instructions.

Prone to breaking –

If something goes wrong with your premade cabinets, it can be difficult to get them fixed or replaced; with Nelson Cabinetry, you have a

lifetime warranty

on all of our products
Bottom Line
So, what's the verdict? Are premade cabinets good? Ultimately, it depends on your individual needs and preferences. If you're on a budget and need a quick kitchen update, premade cabinets may be a great option for you. Custom-made cabinets, on the other hand, can be more expensive and harder to install.
Nelson Cabinetry
Nelson Cabinetry is an online distributor of high quality kitchen and bathroom cabinetry. We pride ourselves in delivering a high quality product via an easy to use, convenient website. Placing your cabinet order has never been easier and you can do so from the comfort of your home, office or job site.
Evan Nelson is an interior designer who believes that your home should reflect your unique style and personality. He specializes in creating custom spaces that are both beautiful and functional.