Convincing Tagline
Best White and Gray RTA Cabinets in the Business
If you want designers to design your kitchen for you or to save money on your purchase, click here
Accent Walls in Bathrooms and Kitchens
By:
|
Last updated: June 8, 2022
If you're looking for an easy way to upgrade your bathroom or kitchen, there's nothing like an accent wall to add a little bit of personality. Rooms that are all the same color can look clean and refreshing, and this is definitely desirable for kitchens and bathrooms. But they can also look a bit drab. Adding a little pop of color can do wonders for a kitchen or bathroom, and the possibilities in terms of mixing and matching are practically endless. If you are thinking about adding an accent wall, here are some questions to get you started.
Which wall should I use?
The classic test for determining which wall to use as the accent is to see where your gaze falls as soon as you walk into a room. Since the accent wall is what is determining the overall ambiance, you'll want it to be the first thing that people see when they enter the space.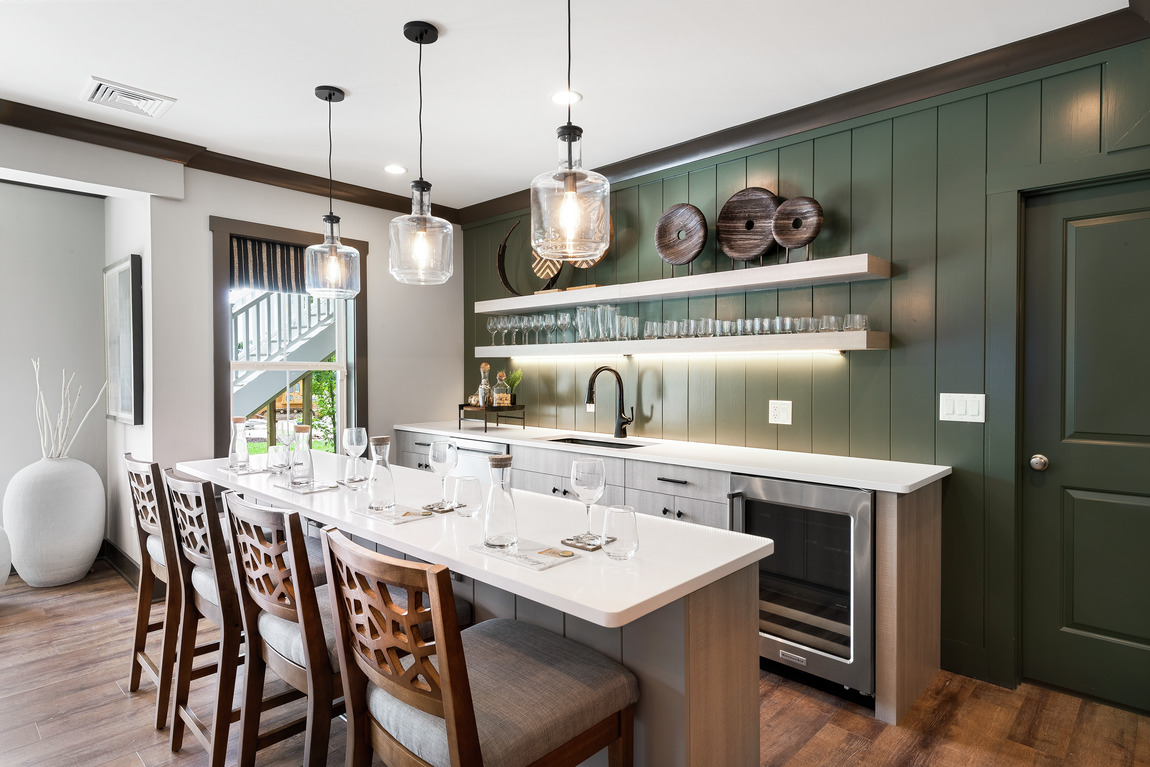 What's the style of your kitchen or bathroom?
The accent wall is supposed to, well, accentuate the style you already have in a room. Definitely take a look at the colors you already have – if you have light walls, you'll want to go with something a little darker, and vice versa – but also take the style into consideration. If you have a sleek, modern kitchen, an accent wall with a geometric design might be just right, but it could detract from the more natural look of a farmhouse kitchen, for example.
Would a pattern or a solid color work better?
Interior design is really a balancing act, and this is something to keep in mind as you're deciding whether you want the accent wall to be patterned or a solid color. If your kitchen has a relatively simple layout and you keep it pretty tidy, an accent wall with a design could add visual interest. If you have white or gray cabinets and a countertop made of wood or stone, an accent wall in a solid color will actually add the illusion of depth to your kitchen or bathroom.
See how our designers can
create

your Dream Kitchen
Get a free 2D layout
Design & layout with as many revisions until it's perfect!
3D rendering
High quality, realistic 3D rendering of project within 24 hours!
Itemized quote
Quotes are detailed, transparent, and come with 15 day Price Gurantee!
Professional Grade Design
Professionalism and quality so good, 15,000+ families have said YES!
BOOK A CALL
How will the accent wall work with the appliances and working features of the kitchen?
It's easy to get caught up in the color of the walls, countertops, and floors while overlooking other elements like the refrigerator, dishwasher, and sink. But these are a part of the overall look, too! If you have a stainless steel farm sink, for example, you may opt for tiles or brick to match the sink's bold lines. Don't feel tied to the current look of your appliances, though! Smaller ones can be stowed away and you can always get a dishwasher panel or refrigerator panel to change the overall look.
Do you want the accent wall to be subtle or bold?
Even if the color of the accent wall is just a variation on the color scheme you've already got going on, it can make a major difference! This is because the accent wall takes up a considerable amount of space. It's easy to underestimate how big of an impact a subtle difference in shade can make. Homeowners frequently make the mistake of going just a little bit too bold because they don't really know how much the accent wall will stand out.
How permanent do you want the accent wall to be?
Designing your accent wall can be as simple as adding a fresh coat of paint and as elaborate as adding a new brick wall. If you tend to like a lot of variation from one year to the next, just painting your accent wall is a pretty quick way to change things up. But if you are looking for something longer-lasting, then why not go the extra mile with tile, reclaimed wood, or even mosaic? This article on backsplash ideas is a good place to start for designs that you can also apply to the entire accent wall.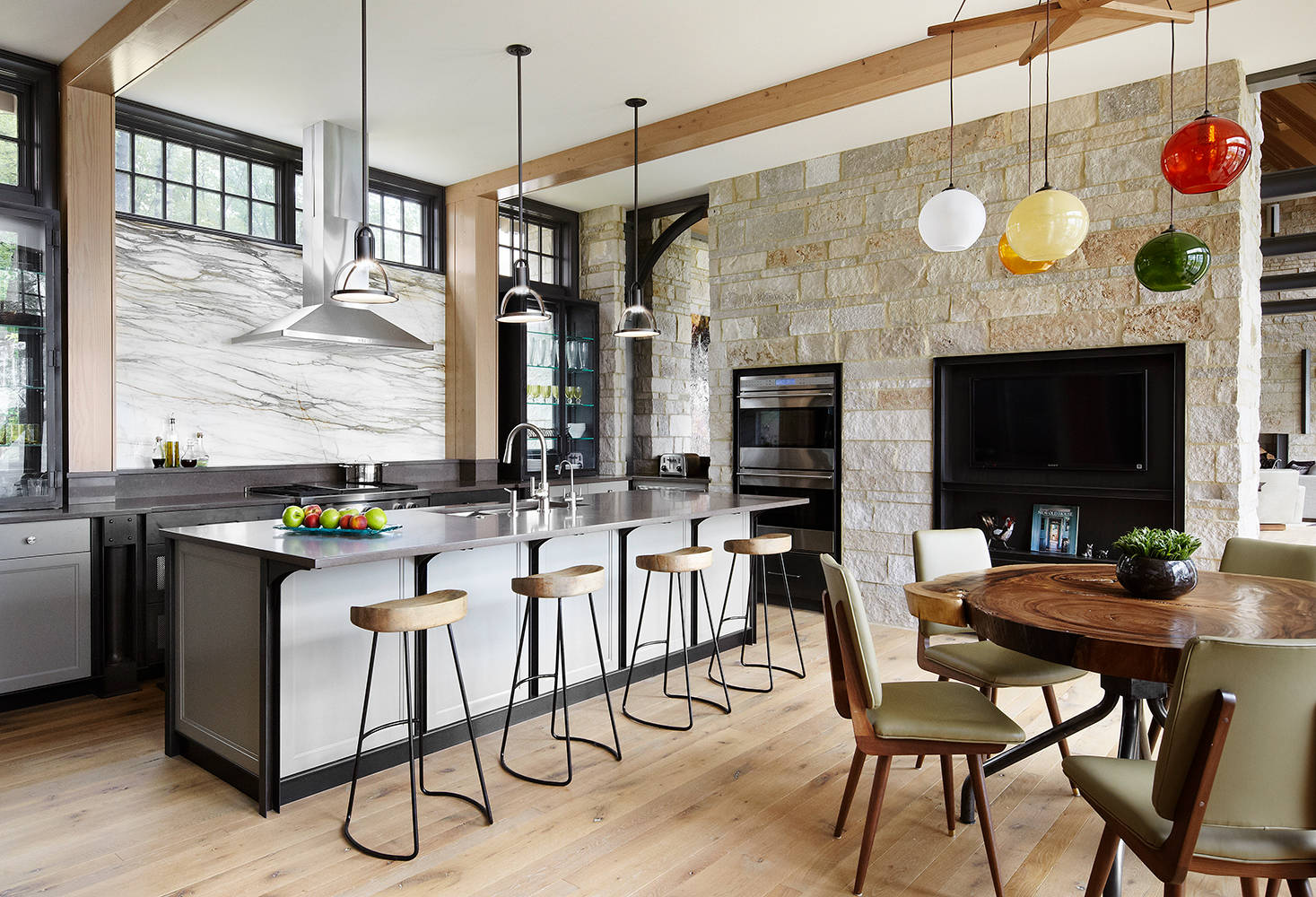 Choosing an accent wall is ultimately a matter of personal taste, but our specialists at Nelson Cabinetry are always here to give you expert advice. We also offer free 3D kitchen design so you can get a good sense of how to make your dreams into reality!
Nelson Cabinetry
Nelson Cabinetry is an online distributor of high quality kitchen and bathroom cabinetry. We pride ourselves in delivering a high quality product via an easy to use, convenient website. Placing your cabinet order has never been easier and you can do so from the comfort of your home, office or job site.
Evan Nelson is an interior designer who believes that your home should reflect your unique style and personality. He specializes in creating custom spaces that are both beautiful and functional.