Convincing Tagline
Best White and Gray RTA Cabinets in the Business
If you want designers to design your kitchen for you or to save money on your purchase, click here
8 Ideas for Adding Style With Cabinet Hardware
By:
|
Last updated: June 13, 2022
After you've gone through the process of choosing your cabinets, countertops, and appliances and have a really good sense of what your new kitchen is going to look like, it's time for the finishing touches. Cabinet hardware might seem like just a minor detail, but it's actually the perfect opportunity to let your personality shine through. The hardware is what really brings everything together and can gracefully accent all the design elements that you've invested so much time and money in. So let's take a look at 8 ideas for finding the right hardware for your new kitchen.
Samples, samples
From paint swatches to sample Shaker cabinet doors, possibilities for "try before you buy" give renovators a real peace of mind, especially when buying items online. If you can, get samples of the hardware first so you can see what it looks like in your kitchen. Many sellers will give you samples for free, though usually in limited quantities.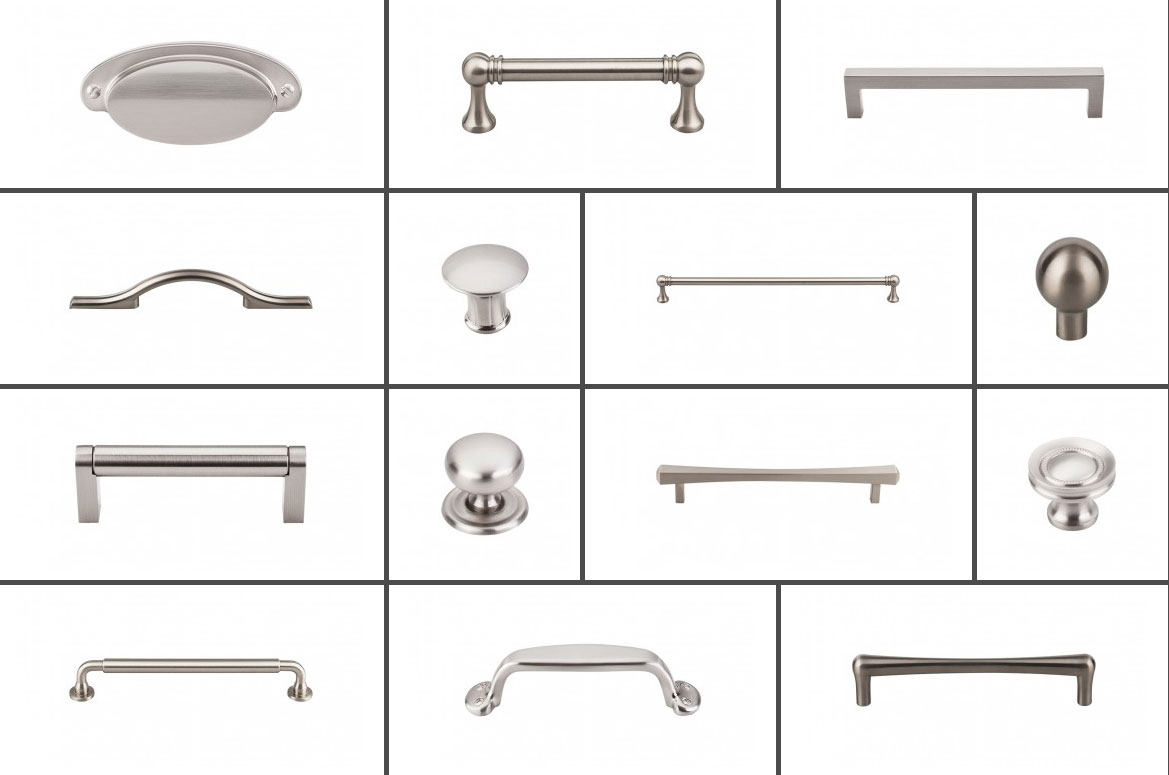 Check the sizing
Whether you get knobs or pulls for your cabinets, the correct sizing is key. Do they fit in your hand? Is the shape right? Since you'll be using the cabinet hardware on a daily basis, you want to make sure everyone in your household can use them comfortably.
Knobs, handles, or pulls?
Cabinetry hardware includes pulls, handles, and knobs. They are all used for opening and closing cabinets (as well as drawers) but they differ slightly. Pulls only attach to a cabinet drawer or door at a single point, whereas handles have at least two points of attachment. Knobs also attach at just one point, but they are shaped differently from pulls, which have more room for the fingers, as with a T-shaped pull.
Positioning the hardware
Whether you decide on knobs, handles, or pulls will determine the positioning of your hardware. Before taking the steps to affix your hardware, make sure it's at the correct distance from the sides of the door for the proper grip and the right look.
See how our designers can
create

your Dream Kitchen
Get a free 2D layout
Design & layout with as many revisions until it's perfect!
3D rendering
High quality, realistic 3D rendering of project within 24 hours!
Itemized quote
Quotes are detailed, transparent, and come with 15 day Price Gurantee!
Professional Grade Design
Professionalism and quality so good, 15,000+ families have said YES!
BOOK A CALL
Mixing and matching
Though you need to consider the shape of your hardware in relation to its function, it's not necessary to stick to just one type. A combination of handles and pulls made of the same material can actually draw even more attention to the hardware. For example, pulls on the doors of the upper wall cabinets and handles on the drawers of the base cabinets can create a subtle division between the top and bottom half of the kitchen, adding visual interest.
Do you need hardware at all?
Some styles of cabinets, such as Shaker cabinets, traditionally do not require any hardware to open and close. That doesn't mean, however, that the beauty of this classic style can't be enhanced by hardware. It's very common to see hardware, whether they be pulls, knobs, or handles, added to Shaker cabinets for added aesthetic appeal.
Match the hardware style to the overall look
There are so many hardware styles to choose from that you won't have any trouble finding one to go with your kitchen. If you've opted for a contemporary style, you can get an especially sleek effect if you match the hardware to your appliance handles. Traditional kitchens frequently give the cabinetry the look of furniture, and ornate hardware can help to amplify this effect, for example.
Materials
Pay attention to the material as well as the shape of the hardware. For a kitchen with a vintage style, look into antique handles or even glass knobs. If, on the other hand, you have a more rustic kitchen, look to more traditional materials like iron or oil-rubbed copper or bronze.
In conclusion, there are a number of factors to keep in mind when choosing your cabinet hardware, which serve to accentuate the colors and lines of the main design features of your kitchen. Be sure to see how the hardware looks in relation to the cabinetry while also making sure it will work for you in terms of functionality.
Nelson Cabinetry
Nelson Cabinetry is an online distributor of high quality kitchen and bathroom cabinetry. We pride ourselves in delivering a high quality product via an easy to use, convenient website. Placing your cabinet order has never been easier and you can do so from the comfort of your home, office or job site.
Evan Nelson is an interior designer who believes that your home should reflect your unique style and personality. He specializes in creating custom spaces that are both beautiful and functional.