Convincing Tagline
Best White and Gray RTA Cabinets in the Business
If you want designers to design your kitchen for you or to save money on your purchase, click here
7 Habits of People Who Always Have a Perfectly Clean Kitchen
By:
|
Last updated: July 25, 2022
Our kitchens are rooms that are most exposed to dirt, especially if you are cooking every day or have a large family to cook for. Leftover food, dirty and untidy dishes, stains and grease from cooking on the worktops are the things we struggle with on a daily basis. However, there are some habits you can apply that can make your life easier and your kitchen look cleaner!
Don't let the dishes pile up!
Source: Unsplash
1. Clean While Cooking
One of the things you can do is to clean while you cook. For example, you can throw away leftover food, wash dishes or put them in the washing machine and wipe surfaces. While the dish is cooling you can clean the stove on which it was cooked and clean the table. After each meal take a few moments to wipe down everything you used. That way you can clean your kitchen on the go and save yourself the trouble of cleaning it later. And don't forget to scrub your sink!
2. Get the Right Kitchen Accessories
Our kitchen cabinets and drawers are often cluttered with things we don't use or things that don't belong there. You can avoid cluttering by buying only the things you will use. Ask yourself do you need five of the same pans? Keep stuff you don't use somewhere else so they don't take up the valuable space.
Get only the accessories you need
Source: Pinterest
3. Return Everything To Its Place After Each Use
Everything in your kitchen should have its permanent place – from cookers and toasters to groceries and dishes. One habit that everyone should adopt is to return everything to its place after each use. That way you will always know where is everything you might need and your kitchen will be a whole lot tidier.
See how our designers can
create

your Dream Kitchen
Get a free 2D layout
Design & layout with as many revisions until it's perfect!
3D rendering
High quality, realistic 3D rendering of project within 24 hours!
Itemized quote
Quotes are detailed, transparent, and come with 15 day Price Gurantee!
Professional Grade Design
Professionalism and quality so good, 15,000+ families have said YES!
BOOK A CALL
4. Turn on the Washer Before Going to Bed
You probably need to run your dishwasher more often than you think you do. You should try to run the dishwasher every night and empty it every morning while you wait for your coffee. Every family member should get into the habit of putting their own dish into the dishwasher. If you don't own a dishwasher you should get into the habit of doing the dishes after every meal so they don't pile up. It would be best if every family member washed their own dishes after every meal.
5. Don't Forget the Floors
You should vacuum or sweep kitchen floors as often as you can as they get dirty really fast if they are not maintained. Sweeping the floors daily will prevent a build-up of crumbs, dirt and dust while mopping the floors weekly will remove the sticky grease from cooking. It is important to keep the place where you eat and prepare your food as clean as possible.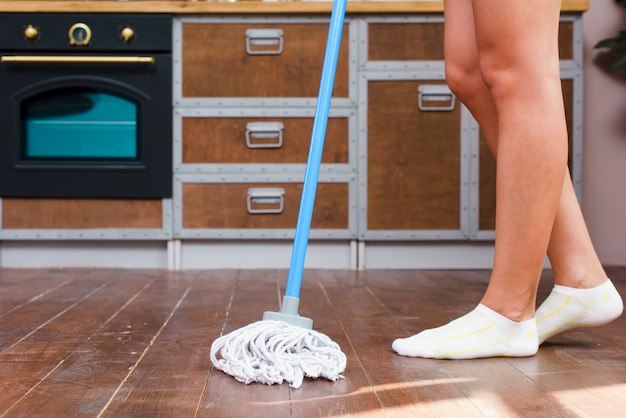 Clean your kitchen floors often
Source: freepik
6. Keep Your Pantry Organized
Pantry is an important part of your kitchen used not only to store your food but also small appliances. An organized pantry makes your whole kitchen look nicer and cleaner. It allows you to cook, meal prep and clean faster and more efficiently. By organizing your pantry adequately you will free up and maximize the space you have and reduce food spoilage. Check out these tall and amazing Nelson kitchen pantry cabinets that will make life easier for you.
7. Check Your Refrigerator Regularly
A messy refrigerator is trouble on its own. Quite often we clutter the refrigerator to the point where we can't find the things we need. Regularly check for things that are going bad and leftovers that need to be thrown away. You can make an "Eat Me First" box for foods that are about to expire. An organized refrigerator can be a work of art, while a disorganized one could lead to food waste. Create a system that keeps the food organized so you will have an easier time finding what you need. Always put the food back where it belongs and not on the random place in the refrigerator.
Nelson Cabinetry
Nelson Cabinetry is an online distributor of high quality kitchen and bathroom cabinetry. We pride ourselves in delivering a high quality product via an easy to use, convenient website. Placing your cabinet order has never been easier and you can do so from the comfort of your home, office or job site.
Evan Nelson is an interior designer who believes that your home should reflect your unique style and personality. He specializes in creating custom spaces that are both beautiful and functional.